Ban on stem-cell patents 'wrong'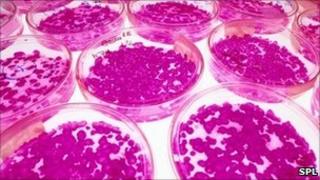 Developing therapies from human embryonic stem cells is under threat in Europe, say scientists.
In a letter to Nature, they express "profound concern" about moves at the European Court of Justice to ban patent protection for embryonic stem cell lines.
A law officer argues it should be unlawful to allow patents where research involved destroying embryos.
The judges are not bound to follow the advice but frequently do so.
Human embryonic stem cells have the potential to turn into any tissue in the body.
Many scientists are excited by the prospect of using stem cells to create healthy replacement cells to treat disease.
After more than a decade of research the first clinical trials are underway in the US.
In their letter to Nature, the scientists argue that industry would have no incentive to invest in this area unless their innovations could be protected with patents.
One of the co-signatories is Professor Austin Smith from the Wellcome Trust Centre for Stem Cell Research in Cambridge.
He said: "It would be devastating if the court was to follow this advice. It would put at threat the future of biomedical research in Europe and some projects here could collapse.
"It would also send the message that scientists are engaged in immoral activity so this is very negative for our community and it would erode public confidence in what we do."
Professor Smith said there were now more than 100 embryonic stem cell lines which could be maintained indefinitely, so the concern about the commercialisation of the human embryo was misplaced.
Professor Pete Coffey, director of the London Project to Cure Blindness, said there was an "ethical need to treat disease" and if a ban on patents was applied then Europe would lose its place as a leader in this area of research.
His team is hoping to begin clinical trials of a treatment for a form of blindness in the next year or so.
The case before the court was originally begun by Greenpeace in Germany.
An adviser to Greenpeace, Dr Christoph Then, said the organisation was not opposed to all stem cell research: "We do not think the opinion of the Advocate General is so clear.
"Our original purpose was to clarify the patent law, especially around the industrial use of embryos."
A ruling from the European Court of Justice is expected within a couple of months.