Screen may spot autism in one-year-olds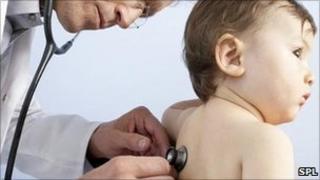 Asking parents a few simple questions about their baby during routine one-year well-baby checks can help spot early autism, say US experts.
The condition, which affects how the child relates to other people, is usually only spotted some years later.
But enquiring about a child's use of eye contact, sounds, words and gestures can flag up early on if more detailed screening is needed, a study shows.
The findings in over 10,000 infants are published in the Journal of Pediatrics.
Of the 10,479 one-year-olds seen, 184 failed the initial check-up and were referred for further evaluation by the team at the University of California, San Diego School of Medicine.
To date, 32 have received a provisional or final diagnosis of autism spectrum disorder and another 101 have been found to have other conditions that involve developmental delay.
These rates, say the authors, are typical of what you might expect to see in a population of this size, suggesting that the screening could work.
Lead researcher Karen Pierce said: "Given lack of universal screening of infants for such disorders at 12 months, this programme could be adopted by any paediatric office, at virtually no cost, to aid in the identification of children with developmental delays.
"Importantly, parents will be able to get help for their children at a much earlier age than before."
Autism is a spectrum condition, which means that, while all people with autism share certain difficulties, their condition will affect them in different ways.
Early diagnosis
Some people with autism are able to live relatively independent lives but others may have accompanying learning disabilities and need a lifetime of specialist support.
The sooner the condition is diagnosed, the quicker they can access the care available.
Carol Povey, Director of the National Autistic Society's Centre for autism, said: "We welcome research which could help autism be diagnosed earlier.
"Whilst a formal diagnosis requires a comprehensive clinical assessment, screening checks at key developmental stages can help professionals identify children who may be showing signs of autism."