Cancer breath test 'step closer'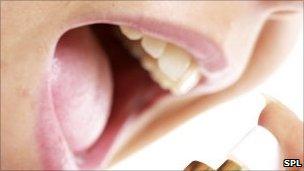 A breath test that can sniff-out cancer is a step closer to reality, according to a preliminary study.
Researchers found an "electronic nose" was able to identify chemical signals of cancer in the breath of patients with lung or head and neck cancer.
A cancer charity said it would take years of research to see if the breath test could be used in the clinic.
About 80 volunteers took part in the Israeli research, published in the British Journal of Cancer.
Of these 22 had various head-and-neck cancers, 24 had lung cancer and 36 were healthy.
The prototype breath test uses a chemical method to spot markers of cancer present in the breath.
The hope is that one day such a test could be used in a GP's surgery to give an instant diagnosis.
Researchers at the Technion - Israel Institute of Technology - are working on a device called the nano artificial nose.
They looked at head-and-neck cancer, which is often diagnosed late, making it more difficult to treat successfully.
Lead researcher, Professor Hossam Haick, said: "There's an urgent need to develop new ways to detect head-and-neck cancer because diagnosis of the disease is complicated, requiring specialist examinations.
"We've shown that a simple 'breath test' can spot the patterns of molecules which are found in head-and-neck patients in a small, early study.
"We now need to test these results in larger studies to find if this could lead to a potential screening method for the disease."
Dr Lesley Walker, of Cancer Research UK, said it was incredibly important to spot the disease as soon as possible when it was easier to treat successfully.
She added: "These interesting initial results show promise for the development of a breath test to detect head-and-neck cancers which are often diagnosed at an advanced stage.
"But it's important to be clear that this is a small study, at a very early stage, so many more years of research with patients will be needed to see if a breath test could be used in the clinic."
Related Internet Links
The BBC is not responsible for the content of external sites.