Kings Fund: Waiting times in England at three-year high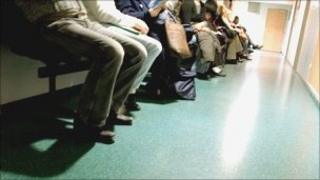 Hospital waiting times in England are at their longest for three years, an independent health think tank says.
The Kings Fund says statistics for February show 15% of patients waited over 18 weeks for treatment, the longest time since April 2008.
It argues the shift is due to the financial pressures on the NHS.
But the government says these figures included some patients who delayed their own treatment and insists the real figure is 10.2%.
In the NHS in England, waiting for hospital treatment is measured from the date when a GP writes a letter asking for their patient to be seen until that treatment is started.
The whole process is not meant to take more than 18 weeks, the limit for waiting promised to patients in the NHS constitution.
The government says it is no longer "performance managing" that 18-week time although the health service still collects all the data.
Kings Fund chief economist Professor John Appleby said the health service was now operating in a different climate.
"In the past the two things that kept waiting down were targets and extra money. Managers got sacked for not meeting targets. And of course in the future there won't be the same amount of extra money."
The official waiting figures are only part of the picture. As the BBC recently found, some parts of the NHS in England have introduced new restrictions on treatment or put routine operations on hold for several months. None of this appears in the statistics as it occurs before the clock starts.
The analysis by the Kings Fund also found that despite financial pressures in the NHS, cases of both Clostridium difficile (C diff) and MRSA have continued to fall. The decline in these hospital infections has been under way for a number of years.
Financial pressures
David Flory, the deputy chief executive of the NHS in England, said the health service was continuing to perform well despite the financial pressures.
"People with cancer symptoms continue to see a specialist quickly, MRSA and C difficile rates are at their lowest level since records began, and the NHS has achieved a healthy financial surplus in line with its plans."
Nigel Edwards, of the NHS confederation, said the relaxation of targets had given hospitals greater freedom to make decisions on clinical needs, but warned that waiting times could not slip too far.
"We need to ensure that if they are being taken away or reduced in importance, there are still mechanisms to ensure that patients can expect treatment to be timely and not subject to unnecessary delay."
Shadow Health Secretary John Healey said it would add to concerns that the health service was slipping backwards.
"Front-line staff and managers are massively distracted by David Cameron's top down reorganisation of the health service, and the signs of strain are now there for all to see."