'Bipolar is not a death sentence'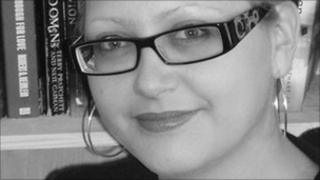 "Being diagnosed with bipolar doesn't have to be an awful death sentence, it's the start of recovery" says Laura May, who has lived with the condition since she was a teenager.
It has emerged that the Hollywood actress Catherine Zeta Jones has bipolar disorder.
She has been receiving treatment at a mental health facility after her husband Michael Douglas' battle with throat cancer.
Laura, who is 27 and from Essex, said: "I had one particularly bad episode when I was 18 and my nan died of cancer, so I can totally see how that kind of stress can trigger an episode."
She first went for help when she was 13.
"I noticed a complete loss of sleep, headaches, nose bleeds, blackouts.
"They were all physical conditions, so I had an MRI scan and blood tests, but it was psychosomatic and that's when doctors said 'we think you're depressed'."
'It gets too much'
The condition leads to intense mood swings, which can last months.
They range from depression and despair to manic feelings of joy, overactivity and loss of inhibitions.
"When I'm depressed it's more easily managed if I just stay at home.
"When I'm manic I am more more productive and creative.
"It can be a good place to be but it gets too much. It's more dangerous and I can have psychotic episodes like hallucinating", Laura said.
"In my first year of uni in 2001 I had my first and second suicide attempts.
"I was extremely manic, spent lots and lots of money, and just got on a train to Paris and woke up there. I used to come home and want to sleep in the garden.
"It's lots of little things that on their own don't seem so much."
She takes daily mood stabilisers and antidepressants every day, but said: "it only works with weekly counselling."
She says there is still a stigma attached to the illness.
"It is difficult, people can't see it so don't believe it exists. There are always a lot of assumptions."
However, she believes it is getting better.
"People like Stephen Fry saying 'I've got bipolar' is breaking it down in the public's eye. It's not seen as an awful diagnosis anymore."
Laura was not fully diagnosed with bipolar disorder until three years ago: "When I was diagnosed I was so happy, it was a complete relief, a really positive experience."
And she has this advice for Catherine Zeta Jones: "She need to make sure she has good support, she has her husband and her family.
"I still work, am married. Being diagnosed doesn't have to be an awful death sentence it's the start of recovery."