Screening increases early bowel cancer detection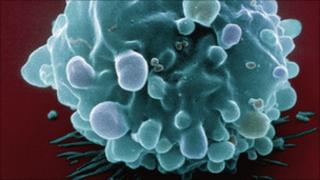 More bowel cancers are being detected early since a screening programme was introduced in England, says Cancer Research UK.
Bowel cancer rates for people in their sixties have jumped by 12% - a sign that more tumours are being detected.
The test finds traces of blood in stool samples, which is an early sign of the disease.
The charity, Beating Bowel Cancer, said everyone offered the test should take it.
Bowel cancer is the third most common cancer in the UK and early detection makes a huge difference.
If a tumour is found in the early stages of development then 90% of patients survive for five years.
This plummets to less than 5% for advanced tumours.
However, the cancer can be present long before symptoms appear.
Screening
In 2006, the NHS bowel cancer screening programme for England was introduced to find those early tumours in people in their 60s and was extended last year to include people up to the age of 75.
People who are eligible receive a testing kit in the post. They collect small stool samples on a piece of card and send the kit to a laboratory which checks for tiny traces of blood.
In the year the scheme was introduced, the rate of bowel cancer cases was 143.5 per 100,000 people aged between 60 and 69.
This increased to 161.5 per 100,000 in 2008, an increase of more than 12%.
Catherine Thomson, head of statistics at Cancer Research UK, said: "These figures are evidence that the bowel cancer screening programme is helping to find cases of bowel cancer sooner.
"Without the screening programme it's likely that many of these cancers would not have been found for another few years, by which time they would be harder to treat.
She added that similar results would be expected for Wales, Scotland and Northern Ireland once their schemes had been running for a couple of years.
It is too soon to gauge the impact of screening on the number of people dying from bowel cancer. Clinical trials are under way and are expected to report in the next few years.
Mark Flannagan, chief executive of Beating Bowel Cancer said: "These latest figures are an indication that bowel screening is working.
"When patients are diagnosed through screening it is often at an earlier stage, before symptoms appear and when treatment can lead to cure.
"Participation in screening is currently just over 50%, but if everyone took part when offered the test, even more lives could be saved through early diagnosis."
A Department of Health spokesperson said: "We are delighted that this new data shows the bowel cancer screening programme is diagnosing cancer earlier, contributing to our aim of delivering cancer outcomes that are amongst the best in the world.
"And we want to go even further. Over the next four years we plan to invest £60m in a new bowel cancer screening technique called flexible sigmoidoscopy to detect cancer and the early signs of cancer for people aged around 55."