NHS satisfaction 'at record high'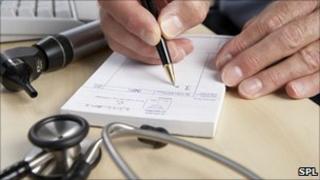 Public satisfaction with the NHS has reached record levels, according to a leading health economist.
Writing on the BMJ website, Professor John Appleby said 64% of people were either very or quite satisfied with the NHS.
Critics have questioned why the government is reorganising the NHS when the public is happy with it.
The Department of Health said reform was necessary to sustain the future of the NHS.
Professor John Appleby was quoting data from the latest annual British Social Attitudes Survey.
It shows satisfaction is at the highest level since the survey began in 1983 and much higher than their levels of 39% in 2001.
Professor Appleby, of the King's Fund think tank, said: "The NHS must have been doing something right to earn this extra satisfaction, something even Conservative supporters have noticed, and something probably not unadjacent to the large rise in funding since 2000."
Reform
Much of the NHS budget is to be handed to GPs as part of healthcare reforms in England.
In the survey, satisfaction with GPs was at 80%, just short of its peak in the 1990s.
A Department of Health spokesperson said: "We welcome the findings which show public satisfaction levels are good, particularly with GPs. Our reforms will empower GPs, not bureaucrats, to commission services.
"If we want to sustain the NHS in the future, we need to modernise it now."
Last week the British Medical Association called on the government to halt to its overhaul of the NHS.
"With survey results like this you have to question why the government feels it is necessary to embark on such a radical and costly re-organisation of the NHS right now, particularly when you take into account the financial pressure the service is already under", a spokesperson said.
Shadow Health Secretary John Healey said: "The evidence is there for all to see that Labour left the NHS with the highest ever levels of public satisfaction, even among Conservative voters.
"It is also clear that the NHS is re-emerging as a worry for the public, and taken alongside recent criticism from the BMA, LibDem conference and a GP among his backbenchers, it is difficult to see how David Cameron can claim support for his overhaul of the NHS."
Professor Appleby concluded: "Future British Social Attitudes surveys will reveal how satisfied the public remain as funding for the NHS is squeezed and the government's proposed reforms take shape on the ground."