Actos is 'alternative' to banned diabetes drug Avandia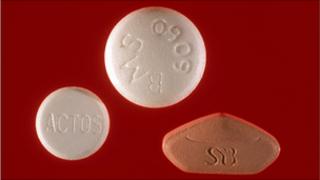 A drug to treat diabetes, Actos, would be a "sensible alternative" to one which was banned last year, researchers have said.
Avandia, also known as rosiglitazone, was suspended by authorities in Europe, but is still available in the United States and Canada.
The study published on the BMJ website said patients taking Actos had fewer heart problems.
Diabetes UK said Actos was a very effective treatment.
Rosiglitazone and pioglitazone, which has the trade name Actos, are used to control blood sugar levels in patients with type-2 diabetes and both are known to increase the risk of heart failure.
The research team at the University of East Anglia compared the risks associated with each drug by analysing 16 studies of more 800,000 patients.
Rosiglitazone increased the risk of heart attack by 16%, heart failure by 23%, and death by 14% compared with pioglitazone.
Alternative
The report says: "For patients who need thiazolidinedione treatment, continued use of rosiglitazone may lead to excess heart attacks, heart failure and mortality, compared with pioglitazone, the effect on public health may be considerable."
Dr Yoon Loke, from the University of East Anglia, told the BBC: "For patients who have come off rosiglitazone, pioglitazone would be a sensible alternative."
"Although it's like jumping out of the frying pan and into the fire in some ways, pioglitazone can lead to fractures in women, is being evaluated for risk in bladder cancer and increases the risk of heart failure."
Deepa Khatri, clinical adviser at Diabetes UK, said people with diabetes should have as much choice as possible.
"Actos (pioglitazone) is still available on the European market for people with diabetes.
"For many people, Actos is a very effective treatment to help control blood glucose levels and Diabetes UK believes this drug should continue to be made available to ensure people with diabetes have as much choice as possible.
"Alternatives to Actos are available, however is it very important that people discuss treatment options with their healthcare team to assess the most appropriate form of medication to suit their individual needs."