UK rise in age-related macular degeneration predicted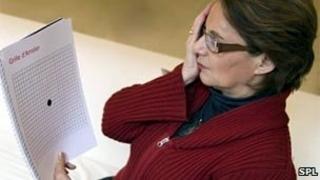 UK experts are predicting a steep rise in the rate of an eye condition that is already a leading cause of blindness.
Age-related macular degeneration (AMD) affects more than 600,000 Britons.
But an ageing population means this figure could rise by a quarter to nearly 756,000 by 2020, according to recent research in the British Journal of Ophthalmology.
Yet half of UK adults have never heard of AMD, a poll by the College of Optometrists suggests.
The survey of over 4,000 also found many people were unaware that a poor diet and smoking increases the risk of AMD.
AMD affects a tiny part of the retina at the back of the eye that controls central vision.
This makes it difficult for the individual to see fine detail, such as recognising people's faces, reading or watching television.
There are two forms of AMD, wet and dry.
There is currently no cure for either forms but early diagnosis and treatment of wet AMD - which develops rapidly - is crucial in order to prevent vision loss.
Dry AMD, which is more common, develops gradually and is not treatable but there are services available to support people with this condition.
Dr Susan Blakeney, optometric adviser to the College of Optometrists said: "Age-related macular degeneration is the biggest single cause of sight loss in the UK so it is concerning that so few people are aware of it and its symptoms.
"By making people more aware of AMD and the impact that it can have, we hope to increase detection and people seeking access to support services."
While AMD is a condition associated with older age, there are steps you can take earlier in life to minimise your risk.
Research suggests that a diet rich in leafy green vegetables, brightly coloured fruits and vegetables and oily fish may help prevent AMD.
Smoking also doubles your chances of developing the condition so quitting can also reduce your risk.
Dr Blakeney said: "I also recommend to patients that they regularly check the vision in each eye separately so that they can spot early changes.
"It is easy to do and only takes a couple of seconds, yet it could save your sight. You can do it by looking at a bit of graph paper and checking if you see any distortion or blank spots."