Japan tsunami: Aid workers tackle aftermath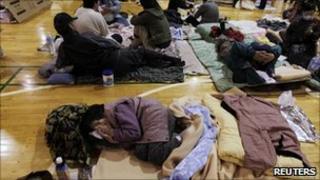 Japan's Prime Minister Naoto Kan describes his country's current situation as "the most severe crisis since World War II".
The death toll from Friday's earthquake and tsunami in the north-east of the country is expected to exceed 10,000, but so far comparatively few bodies have been found among the rubble along the coastal areas of Tohoku and southern Hokkaido.
Tens of thousands of relief workers, soldiers and police have been deployed to the disaster zone to tackle the aftermath.
They are faced with broken bridges, impassable roads and miles of wreckage to traverse to rescue any remaining survivors who have not yet been evacuated from the area.
A growing nuclear crisis at one of the country's power plants, which was damaged in the quake, has also hampered some relief efforts.
Devastation
Authorities have set up a 20km (12-mile) exclusion zone around the Fukushima Daiichi plant and US warships and planes responding to the crisis have moved away from Japan's Pacific coast temporarily because of low-level radiation.
The shutting down of Fukushima No 1 nuclear power plant and other power stations will also mean power cuts affecting water and gas supplies and some medical facilities in many regions, officials say.
But the World Health Organization says the immediate threat of another tsunami appears to have gone and alerts have now been lifted.
And huge numbers of survivors have been already been evacuated and are gathered in emergency shelters, although many are without fresh running water, heat and power.
Patrick Fuller of the International Federation Red Cross (IFRC) who is helping rescuers at the disaster zone describes the scene as "destruction on a scale I've never seen before".
"That is the most daunting challenge. We are talking about hundreds of kilometres of coastline.
"The town where I have just been, called Otsuchi, has been completely swept away. There are only a few buildings left and thousands of people have died there.
"Other people are still stranded out in their own homes that are surrounded by water."
Low temperatures
He said rescuers were working hard to evacuate survivors and distribute food and water supplies.
"The infrastructure - water supplies and power - has been cut off to millions of homes. And at night the temperatures are dropping below zero."
He said many of the people living in these regions were elderly and infirm and they needed medical support.
"We are seeing cases of pneumonia and hypothermia that need medical attention.
"But it's not just medical care that they need. It's also giving psychological support to these people who have lost their family members and homes."
He said some hospitals along the coast had been damaged in the tsunami but most others further inland were functioning well and treating the extra casualties and patients.
And aid was reaching many of those in need, which should help prevent outbreaks of infectious diseases like cholera.
"Supplies of bottled water and food are coming in and we haven't seen any cases of cholera yet, and it's not something that we are overly concerned about," he said.
But fires have been breaking out, fuelled by diesel spilled from damaged cars and boats.
"Despite all the water it seems to have set off a chain reaction with one fire after another. The fire brigade have been extremely busy."
Mr Fuller said the Japanese government had been doing an incredible job in managing the aftermath.
Stephen Ryan, also from the IFRC, said: "Obviously, we are still in the very early stages and it is difficult to get a handle on the numbers needing help and what help they will need.
"The good news is that Japan appears to be very well prepared to manage a situation like this.
"It has a highly developed disaster management plan and it's working as smoothly as you could possibly expect under the circumstances."