Troops' mental health helpline launched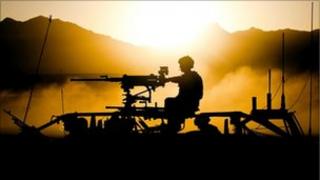 A 24-hour phone helpline for armed forces personnel with mental health problems is due to be launched by the government.
It is intended to help serving personnel, veterans and their families.
The helpline will be run by mental health charity Rethink - with the help of veterans' group Combat Stress, which will guide and train staff.
The government is funding a one-year pilot costing £200,000, with text and e-mail help available later this year.
Local support
The Combat Stress Support Helpline, on freephone 0800 138 1619, was announced in October 2010 as part of a review of the provision of mental health services for veterans.
Combat Stress and Rethink were chosen to run the Nottingham-based helpline service together because of their work in supporting veterans and in mental health.
The helpline is intended to allow ex-service men and women to discuss their mental health problems and access support within their local area.
Health minister Simon Burns said: "This funding will provide veterans and their families with a service that will help and support them whenever and wherever they need it.
"This is also a great example of how the expertise of charities can be used to foster a stronger and healthier society."
Defence minister Andrew Robathan said: "The mental health of our personnel and veterans is a top priority of the government and it is right that we do all we can to support them and their families."
'Wounded minds'
Combat Stress is a charity that specialises in the care of veterans' mental health and has become the first port of call for many former service personnel over recent years.
The charity will offer relevant training on such issues for staff answering the phones.
It currently helps more than 4,600 ex-service men and women, including 517 who served in Iraq and 159 who served in Afghanistan.
Dr Walter Busuttil, director of medical services at Combat Stress, said the helpline aimed to "reach out to more veterans with wounded minds and encourage them to seek help earlier".
Paul Jenkins, chief executive of Rethink, said he was delighted that veterans and their families now had somewhere to turn.
"We understand the vital importance of providing hope and support to people at their most vulnerable," he said.
The Department of Health is also working with the Royal College of General Practitioners to develop training tools for GPs to better recognise the needs of veterans.