Ovarian cancer survival has doubled in 30 years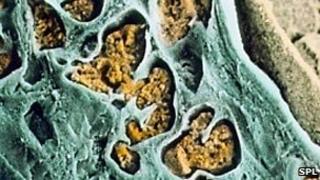 Survival from ovarian cancer has almost doubled over the last 30 years, figures from England show.
The five-year survival odds for women with early stages of the disease has increased from 21% in the early 1970s to 41% today, says Cancer Research UK.
Largely thanks to better treatments, this means over 1,000 more women a year in England and Wales are now surviving this cancer for at least five years.
But the charity says yet more needs to be done to spot tumours earlier.
Separate figures from the East of England Cancer Registry Information Centre - which covers Norfolk, Suffolk, Essex, Cambridgeshire, Bedfordshire and Hertfordshire - show women diagnosed with advanced ovarian cancer do not fare so well.
Spotting the symptoms
Survival rates for women diagnosed with stage III ovarian cancer - nearly half of women - still lag behind with just over 20% surviving for five years.
And this falls to less than 6% of women with the most advanced stage IV disease that has spread to other parts of the body.
To tackle the issue of late diagnosis Cancer Research UK is helping to fund a trial of ovarian cancer screening.
More than 200,000 women are taking part in a nationwide trial testing whether ultrasound scanning and a blood test can save lives.
Early results have been promising, and the final findings are expected in 2015.
Ultimately, screening could be rolled out nationally.
Ovarian cancer is the fifth most common cancer in women, and each year around 6,500 women are diagnosed with the disease, with most cases diagnosed in women over 50.
Dr Lesley Walker, Cancer Research UK's director of cancer information, said: "These figures show that we're making steady progress against ovarian cancer but much more needs to be done. Cancer Research UK is committed to finding new ways to treat and detect the disease.
"In the coming years we could really see some of the benefits of this work, particularly a potential nationwide screening programme that finds women with the disease earlier.
"New treatments are also in the pipeline that could help keep the disease under control for longer, meaning that ovarian cancer becomes a disease that women can live with for many years."