New system uses brain scans to spot early Alzheimer's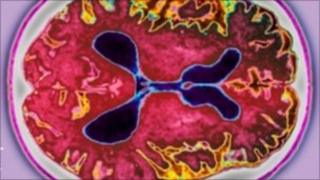 A new method using brain scans to spot the early signs of Alzheimer's Disease is being tested in NHS memory clinics.
An advanced computer programme compares a patient's brain scan with a database of 1,200 existing images of brains already affected by the disease.
Scientists say early tests show the new technique is 85% accurate and can deliver results in just 24 hours.
Diagnosing Alzheimer's Disease in its earliest stages has proved to be extremely difficult.
The system has been developed at the Biomedical Research Centre for Mental Health at the Maudsley Hospital and Kings College London, together with researchers from the Karolinksa hospital in Stockholm.
Brain scans
Professor Rob Howard, an old age psychiatrist at the Maudsley Hospital, says people will now have a chance to know what is wrong with them sooner.
"The earlier we make the diagnosis of Alzheimer's Disease, the more able we are to intervene when we have treatments that are likely to work and affect the course of the disease.
"But also the earlier we are able to give our patients either reassuring news that they don't have dementia, or we're able to confirm they do have the diagnosis so they can make the appropriate plans to put their lives in order and seek the help that may be available.
"The important thing about the development we've reported is that it's available as a clinical service. We're talking about something that is done in the clinic routinely and the results are made available to clinicians within a few hours of the patient having had a scan."
Dr Anne Corbett of the Alzheimer's Society said more accurate diagnosis was a positive step.
"Doctors rely heavily on memory tests for diagnosing people with Alzheimer's, which aren't especially reliable. 750,000 people in the UK have dementia yet only 40 per cent receive a formal diagnosis.
"Getting an early diagnosis enables people with dementia to understand their condition, access treatments that could help relieve their symptoms and give them time to plan for the future."
Long and painful road
But some who have lived through the Alzheimer's nightmare are not entirely convinced.
Over a period of more than 20 years, Bruce Bovill saw his wife Jan gradually succumb to dementia - she died last year aged 69, at which point Bruce spoke to the BBC about his wife's long illness.
He says now that an early diagnosis is just the first step on what can be a long and painful road.
"I think any development towards sorting out things for somebody who has got dementia has to be good, it has to be of benefit to the person concerned.
"However it is only a first step because at the moment people have very little knowledge of what causes dementia, or how to treat it, and certainly no way of curing it."
Research funding
The new system is an example of what is called "translational research" - in other words research that will bring a direct benefit to NHS patients.
The government has just announced that this type of work will receive funding worth £775m over the next five years.
The cash will be spent on projects that improve results in priority areas, such as heart disease, cancer and dementia.
Prime Minister David Cameron said the funding will help ensure the UK remains a centre of scientific excellence.
"A strong science and research base is crucial to help secure sustainable economic growth, helping to rebalance the economy and create the jobs of the future, which is why despite tough spending decisions we have protected its funding," he said.
"We have some of the best scientists and facilities in the world and today's announcement will help ensure we continue to be at the cutting edge of life sciences."
A spokesman for the Department of Health said the fund was a key aspect of the government's growth strategy, and formed part of a much bigger investment in research and development worth £4bn.