An Asian mum takes bone marrow search to Parliament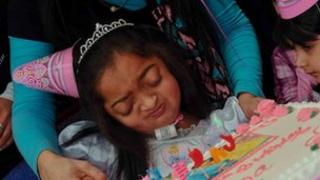 An Asian mum whose daughter desperately needs a bone marrow transplant is lobbying MPs about a new way that people can help.
Vital blood cells can be taken from donated umbilical cords as an alternative way of providing bone marrow but there aren't enough collection centres in the UK.
Riffat Butt's 12-year-old daughter Zoha suffers from a very rare condition called osteopetrosis which affects around one in six million people. It is also called marble bone disease and it makes the bones dense and fragile at the same time.
The condition has left her blind, mute and wheelchair-bound and prone to regular fractures. Her only chance of a normal life expectancy is a bone marrow transplant.
She has been on the Anthony Nolan Bone Marrow register for the past eight years, but so far no match has been found for her.
The Anthony Nolan's cord blood bank could help her find a match as it was set up to specifically help ethnic minorities.
But there is a lack of donors from ethnic minorities, largely due to a lack of awareness or a misconception that their religion will not allow it.
Unmet need
At the moment the Anthony Nolan Trust has cord blood collection points at King's College Hospital in London, the Leicester Royal Infirmary and Leicester General Hospital. The charity's goal is to bank 15,000 cord units by 2014.
Riffat and other families are lobbying MPs and health workers to raise awareness of the cord blood bank and secure more funding for the programme.
Riffat says: "Zoha is our only child and a bone marrow transplant is our only hope, so this is everything to us.
"Once we find a match and her transplant is done, this is what we've been hoping for.
"If the government helps to provide the right funding, then I'm sure not only us but millions of other families, they will benefit from it."
When a baby is born, its umbilical cord and placenta (afterbirth) are usually thrown away as clinical waste. But the blood in the cord and placenta is rich in stem cells.
These stem cells can be used for lifesaving transplants for patients suffering from leukaemia and other serious conditions.
The best match is likely to come from someone in the same ethnic groups as the person needing a transplant, but it can be much harder for people from black, Asian or other ethnic backgrounds to find a match because there are fewer people from these groups both on the Anthony Nolan register and stem cell registers abroad.
The chances of finding a match for a patient from an ethnic minority can be just 40% compared to 90% if you're white.
Cord blood also has the added advantage of being immediately available. And, because of the properties of cord blood stem cells, the match doesn't have to be as close to the tissue type of the patient as it would with a donation from an adult.
Available immediately
Ann O'Leary is a donor recruitment manager for the Anthony Nolan Trust. She said: "There's lots of reasons why it can be helpful but one of the major things is a cord is available there and then. So if somebody comes up as a match, rather than waiting for somebody to donate, the cord is always there available straightaway."
At the moment the Anthony Nolan Trust meets 50% of transplant requests through the cord blood programme but this could increase to 80% if the UK saved 50,000 cord blood units.
The cord blood programme is already working successfully in countries like Spain, France, Germany, Italy, the US and others where there are government-supported national collection programmes.
You can hear more on this story on Asian Network Reports at 12:30pm and 1800 or listen back via the BBC iPlayer