Prostate cancer test is 'twice as good', say researchers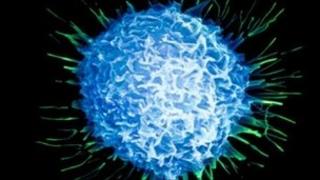 Scientists say they have developed an improved test for prostate cancer.
Researchers at the University of Surrey say their check is more accurate and less invasive than the current tests.
The new method could be widely available within 18 months, they say. Cancer Research UK has welcomed the findings, but says more work is needed.
More than 36,000 men are diagnosed with prostate cancer in the UK every year. But the initial blood-test used by doctors - the PSA test - is unreliable.
Scientists at the University of Surrey have discovered that prostate cancers secrete a chemical called EN2 that can be found in a urine test.
More accurate
Their findings from a study of 288 patients, published in the journal Clinical Cancer Research, suggest this is better than the PSA check at detecting cancers, with far fewer false positives.
One of the researchers, Professor Hardev Pandha, said the new EN2 test was more reliable and accurate.
"In this study we showed that the new test was twice as good at finding prostate cancer as the standard PSA test," he said.
"Only rarely did we find EN2 in the urine of men who were cancer free so, if we find EN2, we can be reasonably sure that a man has prostate cancer."
Larger-scale trials are now being planned in the UK and the United States. The researchers envisage the EN2 urine check would be used alongside the PSA blood test.
Stick test
Professor Pandha says it would be easy to develop a simple EN2 stick test - like a pregnancy test - that would allow men to get a result within five minutes.
"The prospect of an immediate result that doesn't involve a blood test or an embarrassing examination may be helpful in getting more men with urinary symptoms to seek medical help."
The researchers are also examining whether the amount of EN2 in the urine could indicate the severity of the cancer, and whether immediate treatment is needed.
Professor Malcolm Mason, Cancer Research UK's prostate cancer expert, welcomed the findings.
"The test seems to be simple, requiring only a urine sample, and may help in the early detection of prostate cancer.
"However, more work needs to be done to find out whether or not EN2 is capable of distinguishing between aggressive prostate cancers that need treatment, and non-aggressive ones that don't."
The scientist and TV presenter Professor Robert Winston said this was an "exciting discovery which advances the early detection of this study".
But the Chief Executive of the Prostate Cancer Charity, John Neate, cautioned that the new test was not perfect.
"Given the known limitations of the PSA blood test, we welcome this research into a new potential test for prostate cancer; however, this is a relatively small study that first needs to be validated on a much larger scale."