Passive smoking 'raises breast cancer risk'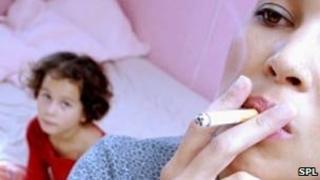 Exposure to second-hand tobacco smoke as a child or adult appears to increase a woman's risk of breast cancer, experts say.
Their study of nearly 80,000 women found breast cancer risk was a third higher among those who had clocked up decades of passive smoking.
The researchers say their "suggestive" findings in the British Medical Journal need confirming with more studies.
Meanwhile, health experts emphasised the importance of smoking cessation.
Controversy
The relationship between passive smoking and breast cancer is a contentious issue.
While some studies have found a link, others have not. And none appear to agree on how much exposure is too much or at what age it could be most damaging.
The latest study by US researchers, led by Dr Juhua Luo from West Virginia University, does not provide a definitive answer but does suggest that extensive exposure to second-hand smoke poses a risk.
Among the 79,990 women aged between 50 and 79 studied, the researchers identified 3,250 cases of invasive breast cancer during 10 years of follow-up.
When the women were asked about their history of smoking and exposure to tobacco smoke a pattern emerged.
Smokers had a 16% increased risk of developing breast cancer after the menopause.
For ex-smokers the risk was 9% and continued for up to 20 years after an individual had stopped smoking.
The highest breast cancer risk was found among women who had smoked for over 50 years or more.
But women who had never smoked but had lived or worked with smokers for prolonged times also appeared to be at increased risk for breast cancer.
For example, over 10 years' exposure in childhood, over 20 years' exposure as an adult at home and over 10 years' exposure as an adult at work, increased the risk by 32%.
The same was not seen among women who had been exposed to lesser amounts.
Dr Rachel Greig of Breakthrough Breast Cancer said: "The study suggests the earlier you start smoking and the longer you continue to do so, the higher your chance of developing breast cancer.
"We know that smoking has many other health risks and is a major cause of lung cancer and heart disease, and we encourage all women not to smoke."
Amanda Sandford of Action on Smoking and Health said a zero tolerance was needed. "If we want to have a real impact on cancer deaths then we have to prevent children from starting to smoke and give smokers all the support they need to quit."