Unscrupulous parents seek ADHD diagnosis for benefits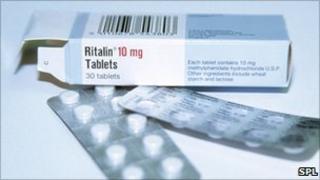 Head teachers claim stimulants are being over-prescribed to young children, who they suspect are not sufferers of Attention Deficit Hyperactivity Disorder (ADHD). They say unscrupulous parents of troubled youngsters are pushing for an ADHD diagnosis to claim disability benefits.
"I think parents are very well aware of how the system works, in terms of obtaining the drugs for their children, and the monetary gains that they get through a diagnosis."
"They know what they're doing."
"Susan", the head teacher of a primary school, has asked to remain anonymous. She knows what she says is controversial and does not want to stigmatise the parents of every child with a diagnosis of Attention Deficit Hyperactivity Disorder (ADHD).
The suspected false diagnoses that concern Susan mean children can end up on powerful drugs, such as Ritalin, even if they do not have ADHD.
"Sarah", another head teacher, also believes that some parents lie to medical professionals in order to get a diagnosis, and the chance to apply for extra benefits.
She told the 5 live Investigates programme: "Some parents will exaggerate what exactly is happening at home, particularly in terms of aggressive behaviour, violent behaviour, breaking furniture and so on, in order to get a care allowance."
Primary school head Susan, believes this is now a well-established route to claiming additional benefits.
"Every child I have on medication, we are asked to fill part of the forms that they [parents] submit as benefit claimants, to verify they have ADHD, so it goes hand in hand."
False claims
Parents of children with ADHD are potentially entitled to claim Disability Living Allowance as, in severe cases, family life can be disrupted and parents may need to spend more time at home or seek additional support.
Abuse of the Disability Living Allowance by parents is one reason the Department for Work and Pensions (DWP) is discussing reform. Responding to the claims made the teachers, a DWP spokesperson told the BBC:
"We have done extensive work to improve the claims process for children to ensure that families get the support they need.
"It is not right that a benefit set up to improve lives could be having the opposite impact."
The teachers speaking to BBC 5 live agree ADHD drugs work well for some children. However, they believe that a failure by doctors to follow guidelines for diagnosis, issued by the National Institute for Health and Clinical Excellence (NICE), allows unscrupulous parents to play the system.
The NICE guidelines recommend that when children are assessed for ADHD, they should be observed in at least two settings - usually the child's home and school.
In the experience of head teacher Sarah, this process is not thorough enough as doctors often only request basic information from schools.
"You'd certainly want to interview an educational professional who worked closely with the child," suggests Sarah.
"Simply completing a form where a lot of it will be tick boxes, and then a short report on what their general behaviour is like, is not enough, I don't think, to make a diagnosis."
Susan shares this concern, too. She says: "Parents will go to their GP, who then refers them to a paediatrician. They will tell the paediatrician about what their child is up to, and if they've got into trouble at school, then a drug is prescribed - with no consultation with schools.
"We just feel the paediatrician is not getting a full picture."
Positive effect
ADHD was first identified in the 1950s and there is now a widespread scientific consensus that many children, especially with more severe symptoms, can benefit from stimulant drugs.
Such drugs can have a positive effect that helps children who suffer from severe ADHD to regulate their behaviour.
But because they are a powerful medication, which can suppress appetite or affect sleep, they are not recommended as an initial treatment for children with more moderate symptoms.    
There is, however, growing concern that the current system is being abused, leading to significant over-prescription of stimulants to young children and teenagers.
Figures released by the Department of Health show that in 2009 the number of prescriptions issued to 16-18-year-olds to treat ADHD had risen by 51% in just two years.
Head teacher Susan recalls being accidentally sent an e-mail by a paediatrician who had prescribed drugs to one of the pupils at her school.
The e-mail featured a list of bogus claims the parents had raised about their child's behaviour in school.
"The doctor had not bothered to ring our school to find out if any of this was true. So we wrote to explain that the child had not actually been in school for 12 weeks."
Susan believes the parents had only one purpose in lying to the doctor.
"To get more medication. They wanted more medication, and so had exaggerated the child's behaviour - and the doctor fell for this hook, line and sinker."
A spokesperson for the Royal College of Psychiatrists told the BBC: "Children with ADHD, who are not severely impaired, should receive psychological and behavioural treatments and their parents or carers should be referred to parent-training and education programmes.
"If a child has very severe problems, they should be offered methylphenidate (Ritalin) as well, but no child should be offered drugs alone."
However, there have been complaints that the provision of support for parents of children with behavioural problems is too patchy, and that intermediate treatments, such as talking therapy, are sometimes discarded too quickly on the grounds of both cost and convenience.
This is something the government has pledged to change, as it recently announced a new mental health strategy for England, promising an extra £400m for therapies, such as counselling, to increase access to them by 60% by 2015.
You can hear the full report on 5 live Investigates on Sunday, 6 February at 2100 GMT on BBC Radio 5 live.
You can also listen again on the BBC iPlayer or by downloading the 5 live Investigates podcast.