Northern Ireland Ambulance Service has nine 'obese' ambulances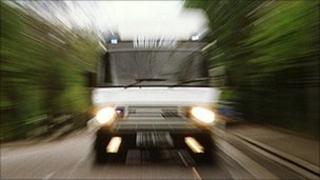 The Northern Ireland Ambulance Service has said it has had to equip a number of ambulances to deal with obese patients of up to 63st.
The revelation followed a BBC report which found that every service in the UK has started buying specialist equipment to deal with the increasing number of overweight patients.
The purchases include wider stretchers, more lifting gear and reinforcing existing vehicles.
Unlike the rest of the UK, where services have had to buy specialist "bariatric" ambulances costing up to £90,000 each, the Ambulance Service in Northern Ireland only modifies existing ambulances.
Since 2006 nine non-emergency ambulances have been outfitted to support bariatric patients, patients who weigh about 40kg more than would be recommended for their height.
Ambulance Service Communications Officer John McPoland said the upgrades would ensure staff and patients were protected if there were any difficulties caused by a patient's size or weight.
"We have equipped some of our vehicles with stretchers that are able to take weights of up to 63st. These stretchers have visual and audio warning systems in place," he said.
'Unfortunate'
The vehicles which have been upgraded are the kind used for hospital to hospital transfers or taking discharged patients home not those generally used for taking someone to A&E, although they can be deployed in emergencies if necessary.
Mr McPoland said the additional cost of fitting out the special ambulances at the time of ordering was an additional £5,000.
"Since 2006 we have spent £45,000 on these vehicles which we feel is money well spent because it does look after our staff in terms of health and safety and it also looks after a particular type of patient."
Dr Frank Atherton, president of the Association of Directors of Public Health, said it was not surprising the NHS was responding in this way.
"It is unfortunate and what we need to do is get better at trying to prevent obesity in the first place," he said.