NHS hospitals 'overspending by £500m on basic supplies'
By Dominic Hughes
Health correspondent, BBC News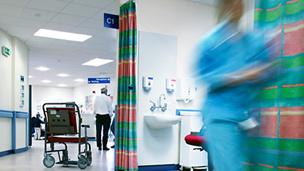 NHS hospitals in England could save around £500m a year if they improve the way they buy everyday supplies, a report says.
The National Audit Office looked at how hospitals purchased 66,000 products, from nurses' uniforms and bandages to paper clips.
It found some hospitals are paying more than they need to.
But it warns that NHS reforms mean ministers are losing their ability to influence purchasing policies.
NHS hospitals in England spend around £4.6bn each year on a huge range of supplies.
But the report, which only covers English hospitals as management of the health service is devolved separately to each of the four UK nations, says that trusts are paying widely varying prices for the same products. It calculates an average variation of 10%, although in more than 5,000 items the variation was above 50%.
Hospitals are also racking up administrative costs through making lots of small orders and at the same time missing out on discounts for bulk orders.
And the National Audit Office (NAO) says there is a huge variation in what hospitals buy.
For example, in just 61 trusts, 21 different types of A4 paper were purchased along with 652 different types of surgical and examination gloves.
One trust bought 13 types of glove while another purchased 177.
But the report warns the power of ministers to intervene is limited.
As English hospitals become independent foundation trusts - a key part of the Government's reforms of the NHS in England - the Department of Health will lose the ability to directly influence purchasing decisions.
The NAO calculates that through more efficient buying procedures and by using the power of bulk orders, hospitals could save at least £500m.
Amyas Morse, head of the NAO, said there were big savings to be made if hospitals collaborated, adding: "In the new NHS of constrained budgets, trust chief executives should consider procurement as a strategic priority.
"Given the scale of the potential savings which the NHS is currently failing to capture, we believe it is important to find effective ways to hold trusts directly to account to Parliament for their procurement practices."
The Health Secretary Andrew Lansley said a more efficient NHS would be able to invest more in patient care.
"That is why it's so important for hospitals to deal with wasteful procurement. While it is up to local hospitals to decide how they purchase products, Government has a role in providing support and robust information.
"We are therefore considering launching a review to help hospitals get better value for money from procurement, drawing on the expertise of Government advisers."
The chair of the Commons' Public Accounts Committee, Margaret Hodge MP, said that - given the NHS in England must find up to £20bn of annual savings by 2015 - the report showed efficiencies could be made.
"It is simply unacceptable that so many hospital trusts are currently paying more than they need for basic supplies," she said.
"Even for some of the commonest items, the price hospitals pay varies by more than 100%.
"And the range of similar products that trusts buy is sometimes so wide as to appear ridiculous: how can it be, for instance, that while one trust does its work with just 13 different types of surgical glove, another requires 177?
"These are well-known recipes for poor value for money that really ought to have been addressed by now."
Nigel Edwards, chief executive of the NHS Confederation, which represents the bulk of NHS Trusts in England, said it was a challenging report which suggested there were some real opportunities to save money.
"The NHS has a £100bn-a-year budget, which means it can leverage enormous spending power.
"It is clear that many NHS organisations are doing this very well but also that here is scope to do better.
"With the NHS facing the greatest efficiency challenge in its history, we have to bear down on every opportunity to make savings for the public."
Related Internet Links
The BBC is not responsible for the content of external sites.