More gene clues to Parkinson's discovered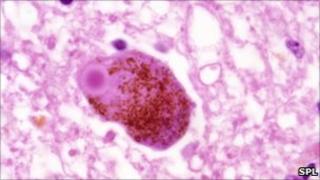 Genes play a bigger role in Parkinson's disease than previously thought, according to the largest genetic study yet.
Five new common risk genes have been discovered, bringing the tally of genetic susceptibility genes to 11.
The study, published in the Lancet, may bring us closer to a treatment or cure, said a medical charity.
The disease - marked by muscle tremors - was once thought to be caused solely by environmental factors.
Parkinson's, which affects around 120,000 people in the UK, is a neurological condition which usually appears in later life.
It is caused by the loss of nerve cells in a specific part of the brain, perhaps triggered by an environmental toxin.
Professor Nick Wood, from London's Institute of Neurology, one of the lead researchers of the study, said: "Discovering five new genes is an exciting step forward and will help us understand more about why and how nerve cells die.
"These findings significantly add to the knowledge base of the increasingly complex picture of the molecules that can cause Parkinson's.
"We hope that by studying them more closely new research avenues will open up."
In the latest study, published online in The Lancet medical journal, researchers from six countries looked at genetic differences in the DNA of 12,000 people with Parkinson's and more than 21,000 healthy volunteers.
They found 11 genetic risk factors - five of which were previously unknown.
It is thought that having these genes makes some individuals more vulnerable to developing the condition, although it does not necessarily mean they will get the disease.
Each gene increases the risk of Parkinson's by only a tiny amount, but those unlucky enough to have a high number of risk genes have more than double the risk of those with a low number of risk genes.
Researchers believe there are many more genetic clues to discover as they attempt to piece together the biological pathways that lead to Parkinson's Disease, and how to prevent it.
Dr Thomas Gasser of the German Center for Neurodegenerative Diseases, Germany, who worked on the study, said: "There are more risk factors to Parkinson's Disease than we had imagined and this is not the end of the story."
Dr Kieran Breen, director of research and development at Parkinson's UK, which helped fund the work, said they hoped it would "help us to move closer towards better treatments, or even a cure for Parkinson's".