Genetic link to high cholesterol is being missed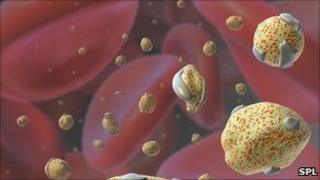 About 100,000 patients have not been tested for a preventable form of heart disease in the UK, according to an audit of the NHS.
Familial hypercholesterolaemia is genetic; when people are diagnosed, their families should be tested.
The audit of nearly 2,500 patients by the Royal College of Physicians found that very few relations were being screened, especially in England.
The British Heart Foundation said it was frustrating and unacceptable.
Around one in 500 people in the UK have familial hypercholesterolaemia, which causes high levels of "bad" cholesterol (LDL) in the blood.
If it is not treated then half of men develop heart disease before they are 55 and a third of women by the time they are 60.
Preventable heart disease
Taking cholesterol lowering drugs, statins, and living a healthier lifestyle do reduce that risk to normal levels.
Because of the genetic nature of the disease, the National Institute for Health and Clinical Excellence recommends DNA and cholesterol tests for family members, but the study says this is not happening everywhere.
The audit looked at practices across 122 sites in the UK. It looked at the cases involving 2,324 adults and 147 children and whether their families had been screened.
Only 15% of hospital trusts had access to funded DNA testing, meaning an estimated that 100,000 sufferers would be left undiagnosed.
The report concluded that there was a "major lack" of family testing in England. It said greater progress was being made in the rest of the UK especially Wales.
The author, Professor Steve Humphries, said: "Undoubtedly it is cost effective to test and treat familial hypercholesterolaemia.
"It saves lives in five to 10 years time, but trusts balance budgets by April so it is hard to get these measures high enough up the priority list."
Professor Peter Weissberg, medical director at the British Heart Foundation, said: "It's frustrating and unacceptable that families at risk of familial hypercholesterolaemia aren't receiving the help and attention they deserve from the health service.
"It's long overdue that familial hypercholesterolaemia services come up to scratch to stop lives across the UK being needlessly lost."
Professor Humphries called for a regional or national body to be set up to manage the testing.
A Department of Health spokesperson said: "There is clear guidance and support for the NHS on managing familial hypercholesterolaemia - including guidance on testing and diagnosis.
"The Department does not routinely 'ring fence' funding for the local NHS, this allows the local NHS to prioritise its funding and respond to the needs of local people."