NHS fraud cases 'rise by 37% in the last three years'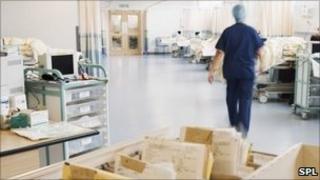 The number of fraud cases investigated in the NHS has risen by 37% in the last three years, official figures show.
NHS Counter Fraud Service figures showed the number of cases of potential fraud detected and investigated rose from 351 in 2007/8 to 415 in 2008/9 and 482 in 2009/10.
A service spokeswoman said there was improved awareness of fraud in the NHS and how to report it.
Problems include unpaid prescriptions and staff claims for unworked shifts.
According to the figures, the value of fraud and unlawful action identified was £4.1m in 2007/8, £16.2m in 2008/9 and £10.9m in 2009/10.
The organisation said recurrent kinds of fraud related to staff and professionals claiming money for shifts not worked, which is known as "timesheet fraud", and employees working in unauthorised jobs while on sick leave.
Other categories included patients who might try to avoid paying prescriptions by falsely claiming exemptions or using aliases to obtain drugs, and contractors or suppliers attempting to exaggerate records of NHS work.
The spokeswoman said: "There are a number of possible explanations for the rise in fraud cases over the last three years. One of these is that fraud has indeed risen.
"There is also a greater awareness of fraud in the NHS and how to report it and the NHS Counter Fraud Service has become increasingly effective at detecting and investigating reported cases."
Head of operations Allan Carter told the Times newspaper that "in times of recession people will look to maximise their opportunities".
He said more than £65m had been recovered to date.
From April, the NHS Counter Fraud Service's anti-fraud functions which cannot be undertaken locally will be carried out by NHS Protect.
It is understood that the new body is likely to provide guidance and assistance to local NHS bodies.
Any incident of suspected fraud in the NHS can be reported on the Fraud and Corruption Reporting Line on 0800 028 40 60 or online.