Hospitals warned ahead of mixed-sex wards fining system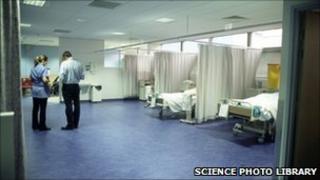 Hospitals in England have been sent a warning about mixed-sex accommodation ahead of a new fining system being brought in later this year.
From April, trusts will be fined £250 when a patient is kept on a mixed-sex ward.
The Department of Health's figures showed there were more than 11,000 breaches in December - nearly half of trusts reported problems.
That would result in fines of at least £2.8m, depending on the length of stay.
The government's drive on mixed-sex accommodation follows attempts by the previous government to tackle the issue.
Struggle
Labour ministers struggled partly because large chunks of the NHS estate date back decades and proved harder to convert.
Extra money has now been ploughed into the system to help build more single rooms to rectify this.
But the latest figures show there is still some way to go before mixed-sex accommodation goes completely.
In total, there were 11,362 breaches, although this equates to less than 1% of patients who stayed in hospital during the month.
The rules apply to all trusts from acute hospitals to mental health units. Only intensive care and A&E are excused.
Single-sex accommodation means patients sharing sleeping, bathroom and toilet facilities only with people of the same sex. This could be through single rooms or whole wards occupied by men or women only, or mixed wards in which men and women are separated in bays or rooms.
Nigel Edwards, from the NHS Confederation, which represents trusts, said "significant progress" had been made in recent years.
But he added: "Many of the NHS organisations that have not eliminated all of their mixed-sex accommodation have real practical issues - many are in old buildings and they will need substantial reinvestment to address the issue."
Katherine Murphy, of the Patients Association, added the problem need addressing as mixed-sex wards compromised dignity.
But she questioned whether fines were the best way to go about it.
"Fines will not be a good enough incentive and ultimately it will be the patients who pay the price as they cut into already squeezed budgets."