Questions over statin prescribing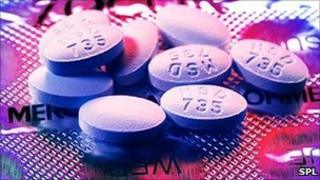 Healthy people may derive no benefit from taking cholesterol-lowering statins, according to a review of previous studies.
The report, published in The Cochrane Library, concluded that statins reduced death rates.
But it said there was no evidence to justify their use in people at low risk of developing heart disease.
The British Heart Foundation said the benefits of prescribing statins for those people was unclear.
Millions of people in the UK take statins, which reduce the risk of heart attacks and stroke by lowering the level of cholesterol in the blood.
They are available both on prescription and in low doses over the counter in pharmacies.
A mixed picture
The National Institute for Health and Clinical Excellence recommends statins for people who have a 20% or greater chance of developing cardiovascular disease within ten years.
Previous studies have suggested that statins may benefit the healthy, but the drugs have also been linked to a range of side effects including liver problems, kidney failure and muscle weakness.
This study, which reviewed the evidence from 14 trials, said there was insufficient evidence that statins should be taken by those not in at risk groups.
Fiona Taylor, from the Cochrane Heart Group at the London School of Hygiene and Tropical Medicine, said: "This review highlights important shortcomings in our knowledge about the effects of statins in people who have no previous history of cardiovascular disease.
"The decision to prescribe statins in this group should not be taken lightly."
Amy Thompson, senior cardiac nurse at the British Heart Foundation, said: "This systematic review echoes what we already know - that statins have huge benefits for people with heart and circulatory disease, or those who are high risk as they help to reduce the risk of heart disease including heart attacks.
"It is still unclear whether statins provide any real benefits for people without heart and circulatory disease and who are at low risk of developing it.
"There is little to suggest that statins should be prescribed routinely for these people. However, it is good practice for health professionals to consider each person individually."
BBC News website readers have been sharing their experiences:
My GP described me statins for high cholesterol. After a while I stopped taking them, as I experienced headaches, aching limbs and disturbed sleep. I have replaced them with a daily Benecol and exercise. I don't know what my cholesterol count is at the moment but the headaches have stopped, the muscle pain has gone and I feel a lot livelier. I'm not suggesting that people stop taking statins but recommend they talk to their GPs about alternatives. Laurie Clarke, Newbury, UK
I have been taking Simvastatin for over a year now. I am now 38 and had a possible mini-stroke some time ago. My cholesterol was hitting eight but was lowered to under five with the help of statins. I have had no side effects apart from some minor heart burn at the start of taking them. I am aware that statins have not been around for too long so we might still not know the dangers of taking them. In my case however, they have certainly benefited my health. I will be on them long term, if not for all of my life, which I am happy to do. Jason, Hertfordshire, UK
As a diabetic aged 73 I am considered by my British diabetic specialist to be in a higher risk group. Therefore, despite only a marginally higher than average cholesterol level I have been advised to take statins. My French doctor - flying against the normal French tendency to prescribe drugs abundantly, was reluctant to agree with his British counterpart but reluctantly he has done so. Hence, I take a small daily dose of statins which has reduced my cholesterol levels. I am in a dilemma as to which course to follow in view of this latest survey. Gareth Mulloy, France
I was put on statins a few months ago by my doctor. She said this was because my cholesterol count was "slightly high" and I had a shallow vein clot in my calf. She thought it would be a good precaution but I have never been totally happy with taking them. Helene Scott, Edinburgh, UK
I had a transient ischemic attack (TIA) in 1999 from a 90% carotid artery block. I had zero symptoms and am an athlete. In 2006, I had a second mild TIA, the cause was unknown. I take Zocor and I feel it affects my strength. I train four to six days per week. I feel I should be stronger. Jack Gerstein, from Colorado, US
I am 54, very fit, I play sport weekly and am able to run six miles without any problem. I take statins because male O'Boyles have a habit of dying before they reach 65. I do wonder if the government are changing their tune because statins are expensive or perhaps they have realised, that if we die at 62 then they won't have to pay out so many pensions! Neil O'Boyle, in Bognor Regis, UK
I cannot decide on whether I should take statins or not. My doctor here in Lithuania says that I should, as my cholesterol is high but there is no history of heart disease in my family and I have never had any problems. I have taken statins, off and on, for the last few years. Barbara Isherwood, in Vilnius, Lithuania
Years ago I was put on Simvastatin. My fingers felt cold so my doctor changed me to Pravastatin which were fine. For some reason my GP changed again to Atorvastatin. A month or so later I had pains in my upper left arm. I decided to stop the Statins a couple of years ago. Fred Richardson, Cheshire, UK
I am 56 and have taken 200mg of Simvistatin for five years. I suffer from leg cramps and a reduced libido. Timothy, Wisconsin, US
I take statin because I am at high cardiac risk. Any drug carries the risk of adverse effects. It is sensible to take a drug to protect against a known problem, if the risk of taking the drug is less than the risk posed by the the recipient's condition. Why should statins be different to this normal rule? Charles Brown, Derbsyhire, UK