Legal aid cuts 'deprive drug claimants of day in court'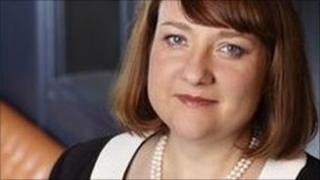 Legal aid cuts will make it impossible to challenge pharmaceutical companies in the courts, the BBC has been told.
The Law Society fears the proposed withdrawal of funding in England and Wales will prevent people from pursuing compensation.
Similar civil cases will continue to qualify for public funding in Scotland.
The Ministry of Justice insists there are other routes to justice, making legal aid "an unnecessary alternative form of funding".
File on 4 has spoken to a man who had a stroke which he believes was caused by a drug prescribed for arthritis.
President of the Law Society Linda Lee says the removal of legal aid will mean people in a similar position will be unable to take their case to the civil courts.
She said: "No-one can take on these cases without help from the state. This will leave pharmaceutical companies beyond the reach of the law.
"My area of practice is this work, I have seen first hand the effect these type of injuries have on individuals.
"They devastate their lives, they can destroy their earning potential, they are thrown to the bottom of the scrap heap. Who is going to help them?"
Risky cases
The government plans to cut the legal aid budget by £350m which means lawyers representing claimants against drug companies will be unlikely to get funding in England and Wales.
The current alternative is a mixture of no-win no-fee agreements with lawyers, and insurance against a patient losing and being liable for the winning side's substantial costs.
The government is currently consulting on its proposals and insists reforms will be fair.
Justice Minister Jonathan Djanogly said: "It is important that victims of clinical negligence have access to legal representation in order to claim compensation from those responsible.
"Anyone who has a valid case can hire a lawyer on a conditional fee agreement, sometimes referred to as a 'no-win, no-fee' arrangement.
"We believe that legal aid, funded by the taxpayer, is therefore an unnecessary alternative form of funding for these cases."
But some industry experts say insurers will be unwilling to provide cover for such risky cases where legal costs can run into millions of pounds.
Peter Smith, one of the leading practitioners for this type of insurance, told File on 4 courts will not allow cases to proceed if they are not satisfied that the claimant is able to cover the costs if they lose.
In Scotland the legal aid budget has no upper limit and there are no plans to cut funding for this type of case, so publicly-funded actions will be able to continue.
Public funding has been granted to one man who claims a drug called Vioxx caused him to have a stroke.
The man's lawyer, Anne McKeown said: "From my client's perspective, given his modest circumstances if legal aid hadn't been made available to him he would most definitely not be in a position to advance this case."
In 2006 tens of thousands of American patients who had taken the same drug won a settlement of $4.85bn (£3bn). Merck - the company which makes the drug - made the payment without admitting liability in the case.
While Merck defends its position robustly, the Scottish Legal Aid Board has granted funding for a case to go ahead.
Catriona Whyte, its head of legal services, said: "This was [a case] where there appeared to be a strong case to put forward and as such it was one we thought would benefit from legal aid funding at an early stage."
In a statement Merck told File on 4: "We believe that when the UK courts examine these claims the evidence will show that the study, disclosure and decision making processes with respect to Vioxx were careful and appropriate."
'Lose everything'
But while the patient in Scotland has been granted funding, patients in England and Wales have little hope.
Gerard Walsh from Evesham in Worcestershire was 59 when he started taking Vioxx for osteo-arthritis. He too suffered a stroke which he believes was caused by Vioxx.
He is one of 150 patients in England and Wales trying to take a case against Merck.
But despite the fact that the drug was voluntarily withdrawn from sale in 2004 and the US settlement, he was unable to get legal aid.
Without legal aid he says his case is impossible because he does not have the means to pay the legal costs incurred if he did take the case the court and lost.
"You would lose everything unless you have the money to back it up. We're talking millions. The normal man in the street has no chance.
"I do feel that the legal system in this country has let us down very badly."
File on 4 is on BBC Radio 4 on Tuesday 18 January at 2000 GMT. Listen again via the BBC iPlayer or download the podcast.