Lisa Jardine starts egg donor compensation discussion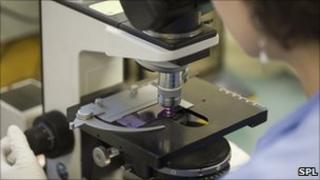 People are being asked if sperm and egg donors should be given more money.
Demand for donor treatment is far greater than supply and the body which regulates treatment is concerned about couples looking abroad.
The Human Fertilisation and Embryology Authority (HFEA) has launched a public consultation to see how regulation of donation can be improved.
Some campaigners have described any exchange of money for eggs or sperm as an inducement to sell body parts.
The HFEA is concerned about long waiting lists for egg donation in the UK.
It says some couples are waiting up to five years and this is one of the reasons people are looking abroad.
More money for donors?
An EU directive means donors cannot be "paid", but they can be "compensated" to cover expenses and loss of earnings.
The rules have been interpreted differently across Europe. In the UK, the limit is £250. Egg donors in Spain can get £765.
Professor Lisa Jardine, head of the HFEA, said Spain had higher donation rates, but that it might be due to cultural reasons.
She added that the level of compensation will be discussed in the consultation: "The system is hard to administer and some people have donated at a loss, the law allows us to be more generous."
Alan Thornhill, the scientific director at the London Bridge Fertility, Gynaecology and Genetics Centre, said: "The sector is crying out for a simple, transparent compensation system ensuring that donors are not left out of pocket or put off by unnecessary bureaucracy.
Josephine Quintavalle, founder of Comment on Reproductive Ethics, opposed the idea: "They haven't got enough eggs so they're upping the ante.
"It's an inducement to sell body parts, I think it's humbug trying to call it donation or compensation.
"The best way to solve the problem is to encourage women to have children earlier and society needs to change to support that."
The family factor
The consultation will also look at how many different families can use one donor's eggs or sperm.
The current limit is 10, to reduce the risk of children from the same donor unknowingly starting a relationship.
Donations within families will also be discussed.
Last week, Penny Jarvis from Sheffield, said she wanted to freeze her eggs for her infertile daughter.
Professor Jardine said this could become more common in the future and she wants the consultation to consider the social implications, such as a child's grandmother also being their genetic mother.
Dr Allan Pacey, senior lecturer in andrology at the University of Sheffield, said: "Donation issues raise many ethical issues for some people and so it is important that they engage with this consultation so we know what UK citizens think about these issues.
"That way, we can set a new framework that should serve us well for the next decade, and hopefully improve the opportunities for UK couples who need donor sperm, eggs and embryos to start a family."
Dr Alex Lows, spokesperson for No2Eggsploitation, said: "HFEA plans to allow financial compensation for egg donors will lead to the exploitation of young women in financial stress.
"These financial incentives will induce women students with massively increased debts, and others, to take serious health risks and it is inevitable that many will be harmed."
Donors have not been entitled to anonymity since 2005 and it's thought the decision may have put some people off, however, the issue will not be debated in the consultation.
The conclusions of the three month consultation will be presented at the HFEA board meeting in July.
The future of the regulator is uncertain after the government announced it would be scrapped in this parliament.
Professor Jardine said the HFEA will continue until at least 2013, and that any recommendations would be in place by then.