'Rare disease means I may wake up unable to move'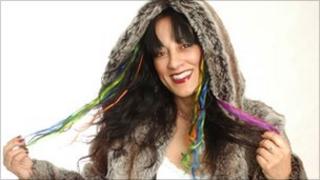 "I am on every drug you can imagine," says Rhya Homewood, listing the 33 different pills she takes every day to cope with her pain.
"I used to go riding, loved hiking with my sons and I used to be a dance instructor but I can't do any of that now."
Rhya has HNPP (Hereditary Neuropathy with liability to Pressure Palsies), an extremely rare disease in which nerves are slowly and progressively destroyed by the body's immune system.
"I tell people I have MS because it's very similar and people understand that."
HNPP is a degenerative and incurable condition, like MS, which is thought to affect just two to five people in every 100,000.
There are 3.5m people in the UK living with a rare condition, the equivalent of one person in 17.
A recent survey carried out by the charity Rare Disease UK found that nearly 50% of people living with a rare disease are initially misdiagnosed - and some people face years of unnecessary delays before a diagnosis is made.
Rhya was 40 years old before she was discovered that her pain had a name.
She had had symptoms all her life - one side of her face going numb, no feeling in one leg, muscles not working properly - but no one could explain why.
The numbness would come and go, sometimes affecting just the little finger on her right hand or one elbow, causing eye-watering pain.
It got to the stage where she thought she was going mad.
"I had almost convinced myself it was psychological," Rhya says frankly. "I saw my GP so often I felt sure she thought I was putting it on."
Repeated visits to consultants and specialists over many years were inconclusive until a young neurologist picked up the presence of carpal tunnel syndrome in both her hands.
Several tests later, including a genetic one, and Rhya finally had a diagnosis.
But her neurologist had never diagnosed anyone with the condition before and her GP had never heard of it.
Rhya's first instinct was to find out as much about it as she could through online research.
She discovered that HNPP is a genetic disorder. The main gene involved is one that makes Peripheral Myelin Protein (PMP-22) which helps to protect nerves and speeds up the nerve impulse.
It is located on chromosome 17. While most people have two copies of this gene, HNPP sufferers have only one copy.
This means that following repetitive movements and injuries, nerves are slow to repair and because myelin regrowth is faulty, they become even more prone to injury.
Rhya's GP Dr Gill Robinson arranged to go on a training course to find out more about HNPP and how to manage her chronic, unrelenting pain.
"Her care is so fragmented between all the people involved that having one continuous, interested person there for all the ups and downs, a GP that knows you very well, is important," Dr Robinson says.
Now 44, Rhya cannot stand up for very long and needs to use a wheelchair if going any real distance. She sleeps on a special egg-box shaped bed to reduce the palsies (numbness) and is always on the hunt for a more comfortable pillow.
She gets migraines, has trouble swallowing anything chunky and has resorted to a gluten-free diet.
On top of that she often becomes very breathless and exhausted, much like someone with ME would feel.
Winter is particularly bad because she gets very stiff and sore.
"Sometimes I get very low," Rhya says, "but I try to stay upbeat."
Determined not to cave in to her condition, she went Glastonbury with her family last year and slept in a tent - but she was out of action for a month afterwards.
"Day to day I can't predict how I am going to be. I may wake up tomorrow and not be able to move."
Rhya knows that her children have a 50% chance of inheriting the condition but she fervently hopes it will not show up until later in their lives, if at all.
"Life with HNPP has been bitter sweet," she says. "Many people have been very helpful and sensitive, but others have found my disease difficult to accept."