Taking regular breaks from desk 'good for the heart'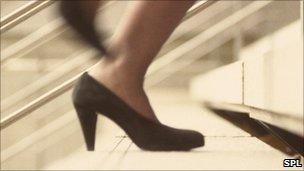 Taking lots of breaks from sitting at a desk is good for the waistline and heart health, research suggests.
Even breaks as short as a minute - to stand up, move around or climb stairs - are of benefit, says a study.
The European Heart Journal report adds further weight to evidence that sitting for long periods can be bad for health.
Experts found those who sat down for long periods without getting up had a larger waist circumference and lower levels of good HDL cholesterol.
Lead researcher Dr Genevieve Healy, of The University of Queensland, Australia, said: "Our research showed that even small changes, which could be as little as standing up for one minute, might help to lower this health risk.
"It is likely that regular breaks in prolonged sitting time could be readily incorporated into the working environment without any detrimental impact on productivity, although this still needs to be determined by further research.
"'Stand up, move more, more often' could be used as a slogan to get this message across."
Dr Healy and colleagues analysed data from 4,757 people aged 20 and over, who took part in the US National Health and Nutrition Examination Survey between 2003 and 2006.
The participants wore a small device which monitored walking or running activity.
Measurements were taken of waist circumference, blood pressure, cholesterol levels, and blood fats.
The researchers accounted statistically for socio-demographic and lifestyle differences.
Commenting on the study, Amy Thompson, senior cardiac nurse at the British Heart Foundation, said: "If your day involves sitting for long periods it's really important you take regular breaks by getting up on your feet.
"If you're in the office, walk to someone's desk instead of sending an e-mail and avoid the lift by taking the stairs.
"Regular physical activity is essential to protect cardiovascular health."
Related Internet Links
The BBC is not responsible for the content of external sites.