Group urges action for long-term pain sufferers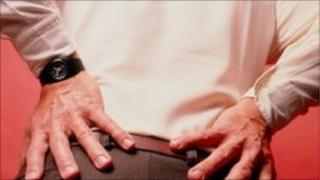 Action is needed to help people who suffer long-term pain, the Patients Association says.
The survey of more than 4,400 people found while many had suffered chronic problems, too few were given the help or support to deal with it.
The report called on the government to improve access to services and training of staff.
Chronic pain is pain lasting more than 12 weeks. About eight million people are thought to suffer at any one time.
But the report, funded by Napp, a drugs firm which specialises in pain control, said there was just one pain specialist for every 32,000 sufferers.
Side effects
In total, more than a third of people surveyed had suffered chronic pain at some point, including everyone from those who have back pain to people recovering from surgery.
Of those who answered questions about their treatment when they had pain a third were unsure how to use prescribed medication and half were not aware of potential side effects.
Only 23% had been referred to a pain specialist, with many having to rely on GPs.
Katherine Murphy, chief executive of the Patients Association, said the findings were "shocking".
"With a lack of robust information, patients must rely on GPs and healthcare professionals who are often not equipped to deal with the specific problems that chronic pain can present.
"We need better information for patients to be able to make informed choices and complete decisions about their care."
Anne Begg, chair of the all-party parliamentary chronic pain group, added: "Patients need to have the confidence to go to their doctor and talk about their pain without fear of being treated as a nuisance.
"They need employers to recognise that chronic pain is a seriously debilitating condition and healthcare professionals need a clear pain pathway in the NHS to follow."
A Department of Health spokeswoman said the government was looking to carry out a thorough audit of pain services.
"Despite examples of good practice, we recognise there is unacceptable variation in the care people receive."