English health officials hit back in flu jabs row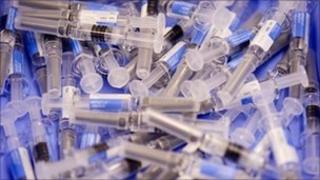 Health officials in England have hit back at Scottish accusations that they never asked for its spare flu vaccines to plug the shortfall.
Reports emerged in England this week of GPs running out of the jabs.
The Scottish government told the BBC on Friday it had "plenty" of jabs in an emergency pot and would have been willing to try to help out if asked.
But England's Department of Health said it was told in talks on Tuesday that Scotland could not free up much.
Vaccination ordering differs in the two countries. In England, GPs order flu vaccines direct from manufacturers.
In Scotland, pharmacists order on behalf of GPs, but the government also gets in extra itself for a contingency pot.
It currently has 40,000 doses in that stockpile.
Contingency pot
A Scottish government spokeswoman said: "We would always consider helping England in any way appropriate should a request be made, while our priority has to be public health in Scotland which is what we have planned for."
But even though there was no formal request, the BBC understands the issue of vaccines was brought up in discussions between civil servants straight after the bank holiday weekend.
The Department of Health said its understanding was that there was only a "nominal" amount that could be made available and even this would not be freed up straight-away. A spokeswoman said that was why no formal approach was made.
English health officials have also spent time this week asking suppliers whether there are any available vaccines in Europe.
But with little on offer, they took the decision on Thursday to let GPs who have run out access the 12m stockpile of vaccine left over from 2009.
It is still in date, but only protects against the swine flu strain, just one of three circulating this winter albeit the dominant one.