Stroke recovery boosted by a course of Prozac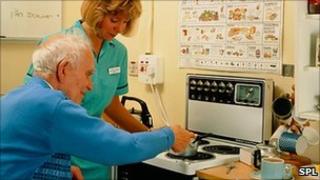 Giving stroke patients Prozac soon after the event could help their recovery from paralysis, a study has found.
Researchers discovered more improvement in movement and greater independence after three months in patients taking the antidepressant (also known as fluoxetine), compared to placebo.
The Lancet Neurology study was based on research on 118 patients in France.
UK stroke experts said the findings were "promising".
This was the largest study of selective serotonin re-uptake inhibitors (SSRIs) and stroke recovery to date.
Tests on stroke patients 90 days after being given the drug found that patients taking fluoxetine had gained significantly more function in their upper and lower limbs than patients who were not given the drug.
Patients in the fluoxetine group were also more likely to be coping independently.
All patients in the study had moderate to severe motor disabilities following their stroke.
'Dual benefit?'
The study noted that the side-effects from the antidepressant were generally mild and infrequent, although this group did notice more instances of nausea and diarrhoea.
The authors, led by Professor François Chollet, said: "The positive effect of the drug on motor function of recovering patients suggests that the... action of SSRIs provides a new pathway that should be explored further in the treatment of acute ischaemic stroke."
Every year in the UK 150,000 people have a stroke and a third of these will be left with a disability such as paralysis down one side of their body.
Dr Sharlin Ahmed, research liaison officer at the UK Stroke Association, said: "We are continually searching for new treatments which can improve the outcomes for stroke survivors and the results of this research look promising.
"Antidepressants, such as fluoxetine, can be used to treat stroke patients with depression which is a common side effect of stroke, so it's very interesting to see that this already licensed drug could have a dual benefit.
"However, further research needs to be undertaken before the use of this antidepressant can be accepted as an effective treatment for improving movement following a stroke."