Sharp rise in serious flu cases prompts jab questions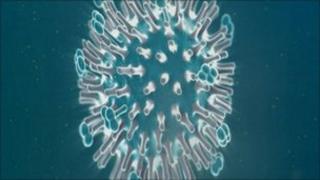 The number of people seriously ill in hospital with flu has risen 50% in the past three days, figures show.
Department of Health data from Thursday showed that 460 critical care beds in England were occupied by flu patients, compared with 302 on Monday.
The total number of cases is in line with what would be expected.
But vaccination rates are lower and Labour has urged the health secretary to immediately launch an advertising campaign aimed at the most at-risk.
It is normal for TV and newspaper adverts to run during the autumn, urging at-risk groups to come forward for immunisation. But this year's campaign was scrapped.
Awareness campaign
Dr Richard Vautrey, of the British Medical Association, said: "We wrote to the Department of Health a couple of weeks ago warning about the low uptake. People do not seem to have been taking this year's seasonal flu seriously enough and I think an awareness campaign early on could have helped."
Shadow health secretary John Healey said the government had made the "wrong judgement" in axing the campaign and suggested the decision had directly led to the fall in people coming forward for vaccination.
"The government has backed a public information campaign every year in the last six, investing an annual average of £1.5m. Last year, faced with the swine flu pandemic the last government spent around £15m. The health secretary's decision has left the NHS playing catch-up."
Vaccination rates currently stand at 68.5% for the over 65s and 43% for younger groups that are in the at-risk categories. This is a fall from 70.4% and 48.6% at the same time last year.
It comes amid rising rates of flu. The number of people visiting their GPs with flu more than doubled last week with many among the younger age groups.
What is more, 27 people have died in the UK with flu so far this winter, 24 of whom had swine flu which is one of the three flu strains circulating this winter. That compares to nearly 500 who died with swine flu during last year's pandemic.
But this is still within the range that is expected during winter months and while there has been a sharp rise in the numbers in intensive care, the 460 figure still represents less than 14% of the total number of intensive care beds available. The numbers in intensive care are lower in other parts of the UK.
Health Secretary Andrew Lansley said GPs had identifed who needed to come forward for vaccination and were contacting them directly.
But he added: "It is not clear whether an advertising campaign would have made a difference."
The chief Medical Officer for England, Professor Dame Sally Davies said swine flu tended to affect young people with risk factors such as heart or kidney disease, making a small number of them very ill.
"So it's not surprising that we're seeing an increase in use of critical care beds in the NHS. But it's well within the range that we expect and plan for in winter flu - and indeed it's less than 15% of our critical care beds at the moment," she said.
"The NHS is nowhere near running at capacity and has plenty of capability beyond this."
Last week, five Scottish people were placed in intensive care with swine flu, Health Secretary Nicola Sturgeon said on Thursday.
Eleven people in the country have needed intensive care after contracting the H1N1 strain - with two dying - since the flu season started.
In Northern Ireland there are now 45 reported cases of swine flu compared with 11 last week, the Public Health Agency said on Thursday.