'My type 2 diabetes was cured after gastric bypass op'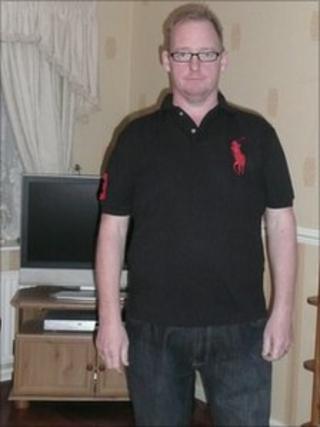 Steven Greggains is looking forward to getting back behind the wheel of his HGV.
Just a few weeks ago, his licence was under threat because of his type 2 diabetes.
He wasn't allowed to drive while taking insulin to control his condition.
As a result, he was obese, he was binge-eating and was also taking the maximum medication to cope with his diabetes.
Even losing two stone (12.7kg) in weight didn't help.
Recent research on 34 obese type 2 diabetic patients showed that almost three-quarters of those who underwent gastric bypass surgery showed no clinical signs of type 2 diabetes after two years.
Doctors at Charing Cross Hospital in London recommended gastric bypass surgery to Steven, as a result, and he went under the knife at the Imperial Weight Centre.
He was discharged two days later and within five days, Steven's diabetes had gone into remission and he had stopped his medication.
"Food was the biggest part of my life," he says.
"Now I eat a balanced diet. Before I had an insatiable appetite. The diabetes cure gives me the strength to say no thank you to food."
Steven was 25 stone (158.7kg) at his heaviest. Now he weighs around 16 stone (101 kg) and would like to reach 12 or 13 (76-82 kg) stone.
But he readily admits that it will be a long road.
"They prepared me for how I would feel after the op but I didn't realise how difficult it would be," he said.
Steven has been given a three-month eating plan which includes only soups initially, then moves onto puree food, then a soft food diet and finally a normal diet.
Key gut hormones
Steven is one of around 2.5 million people in the UK thought to suffer from type 2 diabetes.
The condition occurs either when not enough insulin is produced by the pancreas or the insulin that is produced does not work properly.
Dr Carel Le Roux, who looked after Steven during his treatment and is a member of ESCO (experts in severe and complex obesity management), has carried out research into the effect of bariatric surgery on type 2 diabetes.
He calls it a "double whammy" effect - weight loss combined with remission of type 2 diabetes.
"By increasing the amount of insulin produced and improving the body's sensitivity to the blood sugar-regulating hormone, obese diabetic patients can be effectively cured of the condition," he said.
Why this happens is still not clear, but a recent study by Dr Le Roux suggests that it's not simply the result of losing weight.
The most likely explanation for the improved control of blood sugar lies in the effect the surgery has on key gut hormones, known as glucagon-like peptides (GLP-1).
These hormones are thought to mimic the hormones responsible for initiating insulin release from the pancreas, thus helping to restore blood sugar levels to normal.
Three weeks after the operation, Steve is trying to fill his days with activities other than eating and is doing a lot of walking his dog.
But he and his wife don't go out as much as they did.
It's something he is happy to get used to.
"It's all down to me for the future. I've still got to stay off the sugar, but it's been life-changing," he says.
"People see me now and say 'wow'. I feel really good about myself and I feel healthy too."