Closure threat to 'unique' NHS hospital for families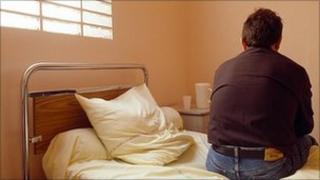 A London hospital which provides a unique in-patient service for families with severe mental health problems is under threat of closure.
Doctors say that, without it, some children will be removed from their parents in families that could have been helped to stay together.
Local NHS managers say the Cassel Hospital's Families Service is "under-subscribed".
The service has applied for national funding of £3m a year.
The Cassel has 25 beds. Families from England, Wales and Northern Ireland stay there for up to nine months while being given intensive therapy.
Patients tend to be parents with complex mental illnesses and children who are at high risk of neglect as a result.
Children "will be removed from parents"
A consultant psychiatrist at the hospital, Dr Roger Kennedy, said: "This is a unique service. There's nothing like it in the world.
"Without this service, children will simply be removed from their parents.
"While some may end up in stable homes, current experience is that many of them languish in the care system for years, with poor outcomes.
"One of my current patients is a woman who was stuck on a psychiatric ward for a whole year.
"She was self-harming and suicidal. She couldn't cope and her baby was in foster care.
"But with our help, she has completely turned her life around. She's come off medication and has even stopped smoking.
"We're helping her plan the flat that she and her eight-month-old baby will now go home to."
Financial constraints mean the service has been getting fewer referrals from social services departments and the courts.
Dr Kennedy and his colleagues insist the Cassel's service is cost-effective and achieves good outcomes.
They have applied for funding from the independent Advisory Group for National Specialised Services (AGNSS).
A Department of Health spokesman said: "The advice from AGNSS will be considered by ministers later this month, when they will make decisions on the specialised services to be commissioned nationally in 2011-12."
"Under-subscribed"
West London Mental Health Trust said its board was considering "a range of options" for the future of the families service.
In a statement, the trust said: "It's not tenable for us to carry the financial burden of an under-subscribed service.
"The particular accommodation in the families service at the Cassel has not been used at capacity for several years.
"The trust has been subsidising the service for this period and indeed for a number of years before this.
"While there is great respect for the hospital's work, the reality is that referrals have been very limited, decreasing in the last 12 months."