Newborn deaths higher in deprived areas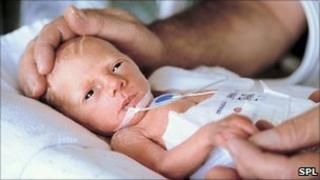 The death rate for newborn babies is more than twice as high in deprived towns compared with affluent areas, a study has found.
The main reasons for the difference were premature births and congenital defects, said University of Leicester researchers.
The British Medical Journal study looked at all neonatal deaths in England over 11 years from 1997.
Neonatal charity Bliss said key risk factors were smoking and obesity.
The Labour government pledged to reduce the gap in infant mortality between rich and poor in England and Wales by 10% by 2010, but some evidence suggests that the gap may actually have widened.
During the study period, 18,524 newborn babies died, but the researchers said that if all areas had the same mortality rates as the most affluent districts, the number would have been almost 40% lower.
When the root cause of the deaths was analysed, in four out of five cases, the death could be attributed to either a birth defect or premature delivery.
Differences in the care of women during pregnancy and birth did not appear to be a significant contributor.
'Behavioural changes'
However, the researchers suggested that advances in neonatal medicine were unlikely to make much difference, with survival rates for babies born very early improving little in recent years.
In addition, they said that the alternative, campaigning on some known causes of premature birth, such as smoking during pregnancy and obesity would not necessarily tackle the "deprivation gap".
They wrote: "Smoking, obesity and teenage pregnancy have all been the subject of long-standing public health campaigns with limited success, and the UK's suggested goals require major behavioural changes."
Instead, more specific research needed to be done to understand more fully the relationship between lifestyle and other factors on birth defects and premature birth, they said.
Premature baby charity Bliss insisted that better neonatal care was still an important aim.
Its chief executive Andy Cole said: "This is an interesting study and we welcome any research that helps us better understand pre-term birth and identify those at greatest risk.
"Any improvements in neonatal care will help all babies not just those in areas of deprivation as prematurity can affect anyone.
"However, maternal smoking, obesity, increasing maternal age and also teenage pregnancy are all linked risk factors for prematurity."