Fears remain despite improvement in maternity services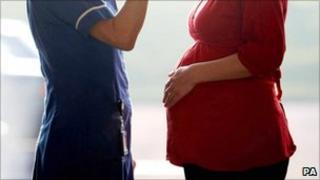 Maternity services are gradually improving, but there are still some areas of concern, according to a survey of women.
The Care Quality Commission poll of over 25,000 found that 92% felt their care was excellent or good.
This was an improvement on the results from the last survey two years ago.
But the regulator still expressed concern about the number of women being left alone during birth and the advice and support they receive.
Nonetheless, the CQC said NHS services still had much to be proud of.
As well as more women rating their care as good or excellent, progress was also made over the confidence women had in the staff caring for them and the numbers being given choice over where to give birth.
Fewer also said they had been left alone during labour. The figure was 26% in the last survey, but that had fallen to 22% this time.
'Encouraging'
The CQC said despite the improvement this area still needed addressing.
The poll also showed there was a lack of support over feeding, information on leaving hospitals and advice about how to get support for emotional problems.
These are areas considered important in an era when women tend to spend less time in hospital after giving birth.
CQC chief executive Cynthia Bower said the overall picture was "encouraging", but she urged NHS trusts to look at the areas they needed to improve.
The overall improvement has happened at a time when there is more pressure being put on maternity services.
The number of births has risen by a fifth in England over the last eight years to 670,000 a year.
The Royal College of Midwives believes another 3,000 midwives are needed to help the NHS cope, although the government rejects this because latest projections suggest the rise in births will tail off in the next few years.
Peter Walsh, chief executive of Action Against Medical Accidents, said while for most women giving birth was a happy experience, he was still concerned about the problems that had been identified.
He said the issues highlighted were "perfectly avoidable" and called for an increase in the number of midwives.
He added: "This report should be used as a springboard to tackle problems in one of the most important services the NHS provides."