Private firm becomes first to run NHS hospital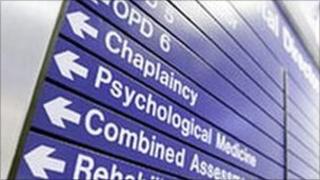 Private company Circle is to take over the running of Cambridgeshire's Hinchingbrooke hospital.
The trust, near Huntingdon, becomes the first to be entirely run by a private business after it beat another bidder, Serco, to the contract.
Regional NHS bosses sought new management after the trust amassed nearly £40m of debts.
They said the move would improve the running of the hospital, but unions warned it heralded a new era of privatisation.
The involvement of private companies in the health service is nothing new.
Risks
They have already lent management support to hospitals, as well as winning contracts to provide specific services such as pathology.
The private sector also runs a number of treatment centres, which carry out minor non-emergency surgery.
But this move breaks new ground in that the company, which is partly owned by its employees in a John Lewis-style model, will be entirely responsible for running the hospital and the risks involved.
Under the terms of the deal, the staff and assets will remain part of the NHS.
Dr Stephen Dunn, director of strategy at the East of England Strategic Health Authority, said Circle had been chosen as they were a "cutting edge" partner.
He added: "Hinchingbrooke has major debts and might have had to close, or receive a large subsidy paid for by the taxpayer. Thanks to this process this is not the case."
Ali Parsa, Circle's managing partner, said he wanted to liberate doctors and nurses "to deliver the best services for the patients they know best".
Circle is due to take over the running of the hospital in June, subject to government and regulatory approval.
The hospital was built in 1983, but has spent recent years struggling for money.
There are a variety of reasons for this. Management of the trust has been criticised at various points, although the hospital has undoubtedly suffered from the creation of a more competitive market in the NHS.
The hospital serves a relatively small population of about 160,000 people, but with NHS trusts now largely paid per patient treated it has struggled for funds.
Paul Flynn, of the British Medical Association, said: "This could be the start of much greater privatisation. There are quite a few other trusts with debts and private companies want to get a foothold into the NHS. But my concern is that they do not have the wider interests of the health service in mind."
But Professor John Appleby, chief economist at the King's Fund, said: "I'm not sure we will see a wave of these. There could well be more, but private management is not the only option, there are also mergers or reorganisation of services that can solve problems."