Boost for UK over heart surgery performance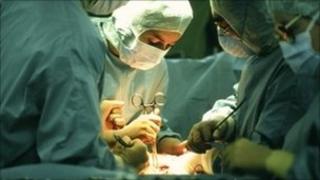 The UK is outperforming most of Europe when it comes to survival rates from heart bypass operations, according to an international audit.
Across Europe, 2.4% of patients on average die following a bypass.
This compared with 2.2% in Scotland, 1.8% in England and just 1.1% in Wales, the study found.
The European Association for Cardiothoracic Surgery looked at data from more than a million operations in 23 countries.
A leading heart surgeon said the decision to collect data on hospital performance had helped cut mortality by 50% in five years.
This is the first ever comparative study of heart operations across the continent, and the NHS was one of the most enthusiastic participants, contributing a large slice of the total data used.
However, a number of countries including France, Denmark, The Netherlands, Austria and the Czech Republic did not participate.
Older and sicker
Nonetheless, the result is a major fillip to the reputation of NHS cardiac surgery - with England and Wales together outperforming the European average by 25%.
This is despite evidence that the task of keeping heart patients alive is tougher here than in many countries.
Patients here were on average older and sicker than in most of the other countries taking part in the audit.
The above-average performances are also set against general improvements in mortality throughout Europe in recent years.
David Taggart, president of the Society for Cardiothoracic Surgery in Great Britain and Ireland, said: "The results confirm that cardiac surgery in the UK is amongst the very best in Europe and that mortality rates have fallen by half over the past five years as a direct result of the collection, analysis and publication of outcome data.
"Our European partners should be encouraged that this approach is likely to lead to a similar improvement in results."
The Royal College of Surgeons said that the results were "significantly better than expected", and its president, John Black, also expressed his pleasure.
"This excellent data is the culmination of years of hard work carried out by NHS cardiac units.
"As a result of the profession's dedication we are now leaders in Europe in the measurement of quality and outcomes of cardiac surgery."
Other good news, revealed the audit, was that hospital stays tended to be shorter in the UK - less than nine days compared with an average of 10.
This saves the NHS considerable amounts of money - £6.4m each year just from heart bypass operations alone.
Dr Mike Knapton, from the British Heart Foundation, said: "What wonderful news for heart patients in the UK to hear that our cardiac surgeons are leading the way in clinical excellence.
"The decision to audit and publicly disclose the outcomes of cardiac surgery is a powerful driver for improved quality.
"This transparency and openness can only help to ensure excellent care in the operating theatre and during post op rehabilitation.
"We are facing uncertain financial times but it's vitally important we continue to support and publish surgical outcomes so all our good work isn't undone in the future."