Battle to encourage healthier lifestyles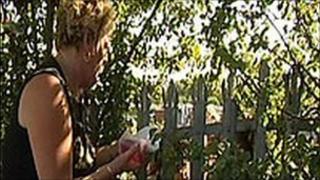 Four years on, the images are still shocking. Faced with healthier school dinner options because of Jamie Oliver's TV series, some mothers began pushing junk food through the school gates.
Others simply swapped the healthier hot dinners for packed lunches. Schools reacted by tightening the rules about what could be put in lunchboxes.
But when children, in turn, responded by spending more on junk food from local shops, stories started appearing about the prospect of bans on take-aways.
In many ways, the pattern perfectly illustrates the challenge facing the government over public health.
Changing behaviour is not easy.
It was a point made by Health Secretary Andrew Lansley at the start of the summer.
His remarks were widely reported as an attack on Mr Oliver and as such the wider message was lost as people reacted with outrage about what was perceived as a criticism of the popular TV chef.
But his underlying message was still valid.
Whether it is smoking, drinking, eating or exercise, most people are aware of what they need to do. And yet they do not.
Take smoking, for example. The link to lung cancer has been clear for decades, while evidence is mounting for a host of other conditions.
From the 1960s to 1990s the numbers fell dramatically. But progress has been much slower since then, with smoking rates hovering stubbornly above 20%.
Obesity rates have risen over the past decade too, with the country on course to have more obese adults than non-obese by 2050.
What is more, an increasing number of Britons are turning to drink. A third drink more than is recommended - with one in 10 classed as "hazardous" drinkers.
The public health white paper, due to be published this week, is unlikely to herald any major initiatives to compare with Labour's big foray into the arena - the smoking ban.
Instead, it will focus on "nudging" people in the right direction by creating the right environment to allow them to make a healthy decision.
Central to this will be the return of public health to local government. Responsibility currently lies with the 151 primary care trusts, but these are being abolished under the reform of the NHS structure announced in the summer.
Instead, directors of public health will be transferred across to councils along with a ring-fenced budget. That in itself is causing some tensions as the rest of local government is facing funding cuts of a quarter over the next four years following October's spending review.
But Dr Frank Atherton, president of the Association of Directors of Public Health, is optimistic.
"It feels like we are coming home. Most public health directors are comfortable with being back in local government. This is where the power is to influence all those environment factors, such as housing, leisure and transport, lie and so the potential to really make a difference is definitely there."
He also believes the next few years could be a crucial period in the history of public health. "There is nothing more infuriating than to hear people say public health has failed. Yes health inequalities have not improved, but life expectancy is rising and survival for a host of diseases is getting better. But there is a big challenge now because of the recession.
"During economically tough times smoking and drinking rates tend to rise. Anxiety and stress will be problems as well. We need a good public health service more than ever."
But the key question, as always, is over money. One of the government's flagship public health projects, free swimming for children and pensioners, was scrapped soon after the coalition government was formed.
This has prompted fears there will be little money available to push for the local projects, from cycling lanes to cookery classes, that are the bedrock of public health.
While Mr Lansley has said the public health budget will be ring-fenced, what remains uncertain is how much will be handed over. Public health directors are pushing for 4% of the NHS budget - about £4bn in cash terms.
Extra money is also going to be allocated to the poorest areas under a system known as health premiums.
Angela Mawle, of the UK Public Health Association, which has members in both the NHS and local government, says: "It is clear money will be tight. But what is important is that directors of public health are given real power to influence things.
"In the past, there have been examples of good schemes at a local level, but there is no joined up working.
"Local authorities have all too often seen public health as the NHS's business. Hopefully that will change."
But Ms Mawle is concerned that the government may be missing a trick if it turns its back on regulation entirely.
Ministers have already indicated legislating for things such as a minimum price for alcohol is out of the question and instead are likely to promise a "responsibility deal" with the private sector to get them on board voluntarily.
Ms Mawle says: "The major advances in public health, such as seat belts or clean air, have been because of regulation so I don't think we should shut the door on that.
"There is a case for alcohol pricing, but also in terms of the food industry. People can try to make the healthy choice, but that is not always possible when you see the amount of fat, sugar and salt already in some processed foods."