Drug firms accused of exploiting loophole for profit
By Adrian Goldberg
Presenter, 5 live Investigates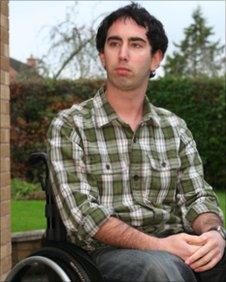 "I wasn't diagnosed until four or five years ago, people didn't know what was wrong with me.
"Suddenly I found out what was wrong and I was given medication and I thought, 'wow everything is getting better'."
But just as Andrew Knight was beginning to regain the level of independence he craved, news came that he may not be able to continue using the medication which has transformed his life.
"It is soul crushing," he told the BBC's 5 live Investigates programme.
The 23-year-old from Herefordshire is angry about the quirk of medical regulation that means he could soon lose the tiny yellow pills he cannot do without.
He suffers from Congenital Myasthenia Syndrome (CMS), a rare condition which impedes the signals from his brain to his muscles, and has left him wheelchair-bound.
He relies on an unlicensed drug called 3,4 Diaminopyridine - commonly known as 3,4 DAP. This drug has been available for decades, and has been found to be useful in the treatment of a number of diseases.
Mr Knight says the drug helps improve the strength of the signals to his muscles. Without it, he says, he cannot lift himself out of bed, lift his head from the pillow or go to the toilet without assistance.
"It was such a joy when we found out there was a medication he could take that would improve things," recalls Mr Knight's mother, Barbara, a classroom assistant who cares for him.
"It also means we have a little bit of freedom too. Life is difficult for him and us," she added.
Now though, that freedom has been jeopardised. A US pharmaceutical company has slightly altered 3,4 DAP and has been awarded a licence to market this new version for a condition similar to CMS. However the new drug, Firdapse, is vastly more expensive than 3,4 DAP.
An annual course of 3,4 DAP has an estimated cost of between £800 ($1,280) and £2,000 ($3,200) but Firdapse tablets weigh in at around £40,000 ($64,000) a year, or more.
The General Medical Council advises doctors to use a licensed drug, where one exists, and the medics treating Andrew Knight understand from the medicines regulator, the MHRA, that they should no longer prescribe an unlicensed drug such as 3,4 DAP, when a licensed replacement is on the market.
The specialist NHS clinic where Andrew Knight is treated has said it cannot afford the new drug and has now written to the local primary care trust, asking if they will pick up the tab instead.
The manufacturers of Firdapse, BioMarin, said the drug was not licensed for Andrew's condition - and that means doctors could give 3,4 DAP if they wished.
However, the medics said they have been instructed by the medicines regulator, the MHRA, to use the licensed drug.
After months of uncertainty, the Knight family are still awaiting a verdict, leaving them in an uncomfortable limbo.
Published earlier this week, the letter calls for an inquiry into the licensing of drugs used to treat rare or "orphan" conditions like CMS.
The consultants claim current regulation allows pharmaceutical companies to chemically tweak or alter medicines that are already on the market and patent them as a new drug, with a new price.
Doctors are advised by the regulator to prescribe the licensed drug, rather than a cheaper unlicensed alternative.
In the case of 3,4 DAP the consultants say to replace it with the new Firdapse drug would cost the NHS more than £10m ($16m) per year.
They add that the existing 3,4 DAP drug has been used for 20 years and has an excellent safety record.
The letter to the prime minister argues: "Once a company has obtained a licence, the legislation then gives the company sole rights to supply the drug.
"This in turn allows the company to set an exorbitant price for this supply and effectively to bar previous suppliers of the unlicensed preparation from further production and distribution.
"We believe that this behaviour is not in the best interests of patients or the NHS but is undoubtedly significantly advantageous to drug companies."
In the case of Firdapse, the manufacturers BioMarin strongly disagree.
Their medical director, Dr Adrian Quartel, told the BBC the old drug is being produced all over Europe by a wide variety of private pharmacies and small companies. "This has clearly led to unacceptable safety concerns," he said.
BioMarin say the new, regulated formulation "will safeguard all patients, and ensure that manufacturers of medicine adhere to the strictest development and production safety rules. We believe this is a benefit to patients."
As for the substantial price differential between Firdapse and 3,4 DAP, Dr Quartel says this can be explained by the company's extensive research programme and quality controls.
Department of Health (DoH) officials have met with BioMarin to discuss the concerns raised by doctors.
A DoH spokesman said: "We share the view that rewards to companies under the orphan medicines scheme should not be disproportionate to the effort and cost incurred.
"Both the Department of Health and the MHRA will keep this situation under close review - if there is evidence of systematic use of the orphan drug legislation in circumstances where companies are not incurring substantial R&D costs, then we will consider pressing for a change in the legislation to ensure a fairer deal for the taxpayer in these sorts of situations."
Back in Herefordshire, though, it is a message which Andrew Knight finds hard to comprehend.
"I really feel so angry about this. There should be a law against this. How are they allowed to do this? How are people like me going to cope without this medication if I don't get it?"
You can also listen again on the BBC iPlayer or by downloading the 5 live Investigates podcast.
Related Internet Links
The BBC is not responsible for the content of external sites.