Social care 'everyone's responsibility'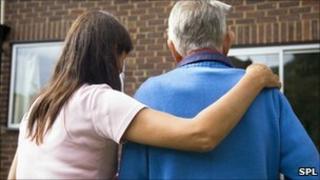 Social care should no longer be seen as a right from the state but instead "everyone's responsibility", the government says.
The attempt to change the perception of the sector was made as ministers set out new plans for England.
To achieve this, they promised more support for carers, an increase in personal budgets and a greater role for the voluntary sector.
It comes as an independent commission is looking at social care funding.
Councils are increasingly struggling to provide services such as home help and care home placements because of growing demands.
It is hoped a new system of funding - social care is currently means-tested - could alleviate some of the problems.
Funding
But whatever conclusions are reached next year, councils are still bracing themselves for making funds stretch further and further in the future.
The policy paper unveiled by the government on Tuesday effectively paves the way for this by attempting to change the image of social care.
Richard Jones, the president of the Association of Directors of Adult Social Services, said the sector was facing a "significant funding challenge".
"It is about a shift in perception and helping people understand there is a partnership between the individual, families and the state.
"In the public mindset, people still think you get it free."
The plans set out include an extra £400m over four years for providing more breaks for carers and a £3m fund next year to help invigorate the voluntary sector.
The government cited projects such as befriending schemes to help tackle social isolation and handy man services for preventing fractures from falls when elderly people try to do DIY as a way community-based schemes could help.
It also set councils a target of achieving full roll-out of personal care budgets by 2013.
Just over a tenth of those eligible currently have the budgets, which allow individuals to decide how their state allocation is spent.
Personal budgets are seen as a prime lever in which to promote greater involvement as they establish a clear agreement about what the state can do to help.
Care services minister Paul Burstow admitted people needed to be more aware of the realities of social care.
But he added: "Social care is everyone's responsibility. It is not about getting care on the cheap."