Brain cell cooling 'could save lives' when heart stops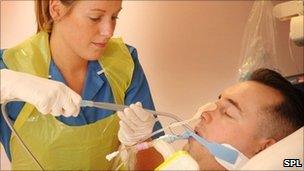 A treatment which cools the brain following a heart stoppage has the potential to save more lives, say US doctors.
Three studies presented at the American Heart Association conference found some patients recovered consciousness after several days on life support.
Current US guidelines may mean life support is turned off too early, they said.
UK experts say more evidence is needed to support the technique's use.
"Therapeutic hypothermia" is a way of protecting the brain, which is starved of oxygen after the heart stops beating.
If too many brain cells die as a result, the outcome can be fatal or highly disabling.
A variety of methods, for example cooling the blood with cold fluids, are used to bring down the temperature, and temporarily shut down brain cells.
In theory, once the heart has been restarted in hospital, the patient can be warmed up and hopefully emerge in better shape.
Doctors are still trying to work out which patients could benefit, and by how much.
At the moment it is recommended that if there is no sign of consciousness three days after re-warming, then doctors should consider ending life support.
However, the evidence from the two US studies may put this in question.
One, from a Baltimore hospital, looked at 47 patients, and found that, after three days, none of the patients given hypothermia were alert and conscious, although by day seven, 33% had woken up.
Another from Minnesota hospitals examined 66 cases, and found a handful in which recovery began after the three day mark - one patient awoke after more than 10 days.
It suggested that continuing life support after three days could mean 10% more people surviving with little or no noticeable brain damage.
The third, a larger study of 298 patients receiving hypothermia treatment at a variety of hospitals, also concluded that there was a wide degree of variation in the time it took such patients to start recovering.
In the UK, while some hospitals have introduced therapeutic hypothermia on an experimental basis, it is yet to be accepted as standard practice.
However, the NHS watchdog the National Institute for health and Clinical Excellence (Nice) has published draft guidance on the procedure which says that surgeons can consider its use.
Final guidance is planned for early next year.
Professor Peter Weissberg from the British Heart Foundation, said: "Therapeutic hypothermia for patients who have suffered a cardiac arrest is being considered at some hospitals in the UK, but further research is needed to confirm and quantify its benefits and to establish just which patients are likely to benefit from its use before it can be adopted as a routine therapy."
Dr John Griffiths is an intensive care specialist at the John Radcliffe Hospital in Oxford, one of those which uses the technique on some patients.
He said that there had been suggestions for the technique to be offered as standard practice in some cases.
He said it was still regarded with some caution, with no certainty that it could improve the outcome for many patients, either in terms of pure survival, or reducing the amount of brain damage they suffered.
He said: "We have to make sure that it fits with the way that patients are treated at UK centres."
One example was the concern that cooling could actually contribute to heart rhythm problems, a potential issue if the patient is being taken immediately into the operating theatre.
"There are lots of unresolved questions - who should do it, when it should be done, how it should be done and where should it be done?" he added.
Related Internet Links
The BBC is not responsible for the content of external sites.