Brain injury 'more likely' in young offenders, study says
By Dave Lee
BBC World Service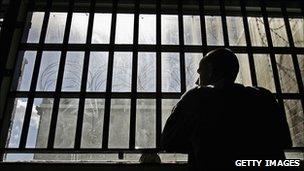 Young offenders are more likely to have suffered a brain injury compared with the rest of society, a study suggests.
A survey of 197 young male offenders found about half reported having had a childhood brain injury - three times higher than in non-offenders.
Multiple head injuries were linked with carrying out more violent crimes, says the University of Exeter team.
Better assessment of injuries could help prevent re-offending, they add.
The researchers asked 197 offenders aged 11 to 19 years about their past medical history, convicted crimes, mental health and drug use.
They considered the effects of traumatic brain injury alongside other factors such as deprivation and lack of life opportunities to determine if a childhood brain injury contributed to future acts of criminal behaviour.
The study, published in the journal Neuropsychological Rehabilitation, found that while a brain injury alone is unlikely to increase a child's chances of criminal activity, it could play a factor in those already susceptible to crime, and may increase the chance of repeat offences.
"The associations between brain injuries and crime are very problematic," explained Huw Williams, associate professor of clinical neuropsychology at the University of Exeter, on Radio 4's All in the Mind.
"It may not be causal in the sense of increasing the chances of crime, but it may well be a factor in terms of re-offending."
Evidence suggests that brain injuries, particularly those causing a loss of consciousness, can lead to problems in attention, memory, planning and behaviour.
Professor Williams says it is important not to allow children displaying some of these characteristics to "drift" at school due to being unable to concentrate.
"What we need to think about is better access to neuro-rehabilitation for children and linking that into schools so that when head injury happens there's a system in place," he said.
This study is a follow up to previous research on adult prisoners which found around 60% had some degree of traumatic brain injury in their past.
In both studies a head injury was associated with a greater risk of re-offending, said Professor Williams.
The study also found that adults who said they had suffered a head injury were, on average, five years younger when they were first sent to prison than those who had not been injured.
Heather Shilling, operations manager at the Warwickshire youth justice service, believes that a fuller medical assessment can help make the justice system fairer for young offenders.
"Young people who have got memory difficulties can get into a lot more trouble when they're in the system than a young person who hasn't had an injury," she said.
She added that it would be difficult to do a complete medical assessment on all young offenders, but simply asking people if they have been knocked out in the past would help both the offender and the police officers.
"A good example is of a young person that might slur their speech, if they've had a fairly extreme brain injury.
"If they're in the police station, the police officers interviewing them might think that they are under the influence of some drugs or some drink. It might be nothing to do with that.
"If the young person appears to be uncooperative, it can have a worse outcome for that young person."
The study showed that among young offenders, repetitive injuries were common; a third of those suffering head injuries reported having been "knocked out" more than once.
These offenders were also linked to more violent crimes.
"We found there was a relationship with three or more head injuries and greater violence in offending history," said Professor Williams.
"It might be a marker that these people are having much more violent lives, and the head injuries are a consequence of that, but it may also be likely that they are starting to have increased problems in terms of the neuro-cognitive effect of a brain injury.
"These are things like impulse control problems, not really reading other people that well, understanding the facial expressions of others, maybe being too quick to act on a feeling of threat.
"All these kind of factors could be in the mix."
However, while the research appears to present alarming evidence, researchers insist parents should not overly worry if their child has had a head injury - as other social factors bear far greater influence on a child's future.
Related Internet Links
The BBC is not responsible for the content of external sites.