NHS screening change 'would cut smears'
By Michelle Roberts
Health reporter, BBC News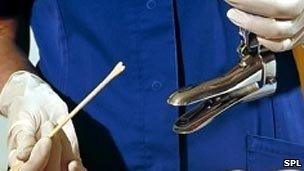 Women would need far fewer smears if the NHS switched to a new way of screening for cervical cancer, a Cancer Research UK scientist has said.
Good uptake of the HPV vaccine that can prevent the cancer means we can now start to move away from conventional testing, said Professor Peter Sasieni.
Girls who have already had the jab would only need the new type of smear test twice in their lifetime, he said.
Unvaccinated women would halve their number of checks from 12 to six.
Professor Sasieni, a Cancer Research UK scientist at Queen Mary, University of London, has advised the NHS screening programme in the past about how to improve screening and his recommendation to change the age range of women invited for screening was adopted.
The professor, who presented his predictions at the National Cancer Research Institute conference in Liverpool, is now urging the government to consider making HPV testing the main method of cervical screening.
Currently, women are invited for a conventional smear test that takes a sample of cells from the cervix to be examined under a microscope in the lab to check for early warning signs of cancer.
The HPV test, which is carried out in a similar way to conventional smears, instead checks for an infection called human papillomavirus, or HPV, which is a known cause of cancer of the cervix.
Professor Sasieni said: "The UK cervical screening programme has done a fantastic job in reducing cervical cancer, but it is based on an old screening test.
"HPV testing could prevent an even greater proportion of cervical cancer with just half the number of screens over a lifetime in women who have not had the HPV vaccine."
And young women who have had the HPV jab would only need two screens giving the "all clear", one at the age of 30 and another at the age of 45, he said. Any with worrying results would be referred for more testing and treatment as necessary.
Currently, women aged 25-49 are invited for cervical screening every three years, dropping to every five years between the ages of 50 and 64.
This means the average woman will undergo around 12 conventional smears in a lifetime.
Professor Sasieni says it is not that the old method is bad, more that it is now outdated and involves testing women many more times than necessary.
Data suggests one in five women do not turn up to have smears when invited.
Professor Sasieni says if HPV testing were to be rolled out from next year, it could be used nationally by 2015.
"With continued high coverage of HPV vaccination and targeting of screening resources towards unvaccinated women, cervical cancer should become a truly rare disease.
"And if the government plan for this change now, they could save hundreds of millions of pounds in the long run," he said.
In the UK, girls aged 12 to 13 are offered the HPV vaccine that protects against two strains of HPV, types 16 and 18. Girls have three injections over six months, given by a nurse.
Uptake in English schools has reached about 80% and in Scotland 90%.
Dr Lesley Walker, Cancer Research UK's director of cancer information, said the very high uptake of the vaccine in the UK had been a real success story.
"This is exciting and poses interesting questions for the screening programme in terms of the best way to screen women in the future who have been vaccinated.
"But for now it remains vitally important that all women continue to take up the invitation to go for screening when they receive it."
More than 2,800 women a year in the UK are diagnosed with cervical cancer and almost 1,000 die from it every year.
Professor Julietta Patnick, Director of the NHS Cancer Screening Programmes, said they were looking at how best to incorporate HPV testing into their current screening programme.
"Any plans to use HPV testing as a primary screening method will require rigorous investigation and testing, as well as the development of robust quality assurance protocols and standards, before it could be implemented."
Related Internet Links
The BBC is not responsible for the content of external sites.