Hospitals facing closer scrutiny of death rates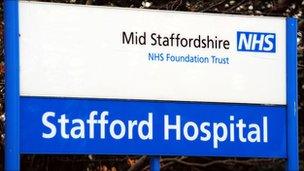 All deaths in hospital and within a month of discharge are to be monitored under a new system in England.
The scheme is being introduced in April following the Stafford Hospital scandal when the NHS was accused of being slow to react to the high number of deaths.
There are currently a variety of tracking systems which are used, but only about 80% of deaths are recorded.
The new system - Summary Hospital-level Mortality Indicators - aims to ensure concerns are responded to quickly.
It is being dubbed a "smoke alarm" in that an alert does not guarantee there is definitely something wrong, but that it should be investigated.
Monthly data will be published and rises in deaths or a consistently high rate will have to be investigated by the individual trust in conjunction with the regulator.
The system will take into account local factors, such as how ill the patients are, and judge whether the death rate it is within an expected range or above or below it.
It was designed by an expert panel including representatives from leading think-tanks, senior doctors, the health regulator and Dr Foster Intelligence, a private body which tracks death rates.
Ian Dalton, a senior NHS manager who helped design the new system, said: "This is a huge achievement.
"A high SHMI on its owns is not an indication of poor standards of care but it is a trigger to take action.
"Hospital boards across the country have a responsibility to pursue questions and quick action will help to ensure safe care for patients at all times."
Related Internet Links
The BBC is not responsible for the content of external sites.