UK forces in Iraq 'less stressed than police'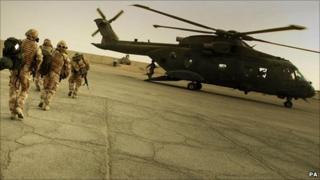 UK forces in Iraq questioned in 2009 were less stressed than police officers or disaster workers, scientists say.
A UK team surveyed 611 military personnel and found a fifth showed signs of "mental distress", a lower rate than that seen in the other high-stress occupations.
The study was carried out for the British Journal of Psychiatry.
But the charity Combat Stress said it was difficult to compare stress levels in such different occupations.
It is the first major study of the UK armed forces' mental health while on deployment in Iraq.
Neil Greenberg from King's College London, a co-author of the study, said that until now, most research on the psychological well-being of the UK armed forces in that country had been conducted either before or after their deployment.
But little was known about soldiers' mental health during actual service.
The team, led by Kathleen Mulligan, conducted a survey among 611 UK military personnel of different rank and gender serving in the country in 2009. This is about 15% of the total number of the UK armed forces in Iraq that year.
Overall, they found that there was "little overall effect of deployment on mental health", said Dr Greenberg.
Risk factors
The study states 92.6% rated their health as good, very good or excellent, and men as opposed to women were more likely to report good health.
Other factors that appeared to help this self-rated well-being included being an officer, having a cohesive unit and supportive leadership.
Age seemed to matter as well: those who were younger reported more levels of stress and poorer health.
Finally, the scientists found that it was important for the armed forces to receive pre-deployment stress brief and to take periods of rest and recuperation.
"Although there is a policy that requires personnel to be given a pre-deployment brief, our study suggested this policy needs to be more rigorously enforced," said Dr Greenberg.
Even though 20% of those surveyed showed signs of mental distress, only 3% were found to possibly have post-traumatic stress disorder (PTSD).
This is lower than among workers in other high-stress occupation, "such as police officers, doctors in emergency departments and disaster workers", the report said.
But a spokesman from a UK charity Combat Stress told BBC News that comparing soldiers in the field to people in other professions was like comparing "apples and peaches".
"The whole military psyche is 'get on, crack on, put up', and there are people rightly or wrongly not willing to express their problems," he said.
"And I think this is an antithesis of the attitude of employees in the public services.
"I think there are cultural things in play here that are perhaps not apparent in the groups that they compared."
Dr Greenberg underlined that it was vital to ensure medical support in military units that covered mental health disorders.
"Improving training, as well as raising awareness among staff of the link between personnel reporting sick and having poorer mental health may help identify those in most need of psychological help," he said.