'I should really be dead'
By Jane Elliott
Health reporter, BBC News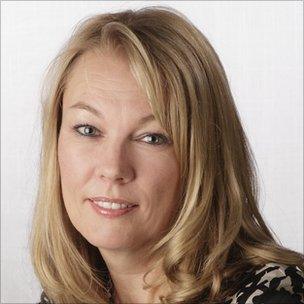 Ali Stunt knows she is lucky to be alive.
In 90% of people diagnosed with pancreatic cancer, the disease is spotted so late that it is inoperable.
Only 3% of those diagnosed survive the five-year mark.
These are dismal figures. But what makes Ali angry is that these statistics have changed little over the last 40 years.
Specialists say if they can get people early enough they can help, but that referrals happen too late.
Patients are slow to spot the deadly symptoms and then when they do, doctors fail to act.
Ali, 45, from Surrey, presented early, but delays meant that when she eventually saw a specialist she was only just suitable for surgery.
Initially, doctors did not suspect cancer and Ali was told she would have to wait a month for a scan. But she decided to go private, and it was discovered she had a mass on her pancreas.
"I was very lucky. My surgeon has said had I waited four weeks for that scan I probably would not be here today," she said.
"It is quite sobering. I didn't know how bad the figures were and had not heard of the disease - and I have a degree and considered myself well educated."
A third of patients diagnosed with pancreatic cancer are under 65. Smoking, drinking, obesity and family history increase the risk.
More than three years later, Ali she is still mystified about why she became ill.
"For me it was relatively fast," she said.
"Up until about a month before I did not have any symptoms I was aware of. I was really fit and healthy for a 41-year-old.
"I was not overweight or a heavy drinker and I was generally living a healthy lifestyle.
"At the end of July 2007 I started to get mid-upper back pain, which meant it was very difficult to get comfortable and pain radiated to the front.
"I started getting significant pain after eating and I went to the doctor. They thought it was dyspepsia (indigestion) and prescribed an over-the-counter remedy but the pain continued and got worse."
Various doctors wrongly suspected indigestion, irritable bowel syndrome, and pancreatitis
This lack of awareness she encountered worried Ali so much, that she set up a charity - Pancreatic Cancer Action - to try and improve knowledge.
"The index of suspicion needs to be raised among the primary clinicians," she said.
"The general population need to know about it, the symptoms and the risk factors - smoking cigarettes, obesity and hereditary link
"They don't know why I got it. It was just bad luck. But if they can catch the more obvious ones, that would be a start."
Her charity, with the help of specialists, has already started giving training.
Now it is working on a web-based resource to ensure all medics are up-to-date.
Mr Neville Menezes, consultant pancreatic surgeon at the Royal Surrey County Hospital, Guildford and St. Peter's Hospital, Chertsey, said it is only by catching cases earlier that statistics will change.
''We have come a long way in the treatment of pancreatic cancer," he said.
"But it is one of the cancers that is diagnosed quite late and the main reason we can not do much for these patients.
"Most of them die within six to eight months of being diagnosed.
"The only thing that gives the patient a chance of a cure is taking the cancer out."
He said those needing treatment should be sent to specialist centres.
Pancreatic Cancer Action is also developing a series of educational programmes aimed at both the public and medical communities, tackling issues such as the inequalities of survival rates and access to services around the country and will campaign to increase levels of funding in the disease.
Related Internet Links
The BBC is not responsible for the content of external sites.