Is British reserve 'spoiling' death?
By Jane Elliott
Health reporter, BBC News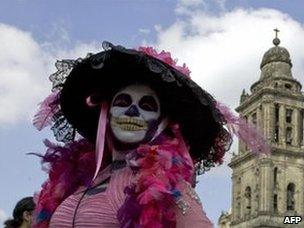 Is our fear of dying - and of talking about it - costing us the death we want?
In the UK, talking about death is still a taboo to many. If a relative or friend is dying, British people often acknowledge it - then politely avoid mentioning it.
But experts say that by putting our heads in the sand we are denying ourselves, where possible, the time to prepare for our deaths and say our goodbyes.
Professor Mayur Lakhani, GP and chair of the Dying Matters Coalition and The National Council for Palliative Care, said that those who know they are dying should be encouraged to plan the death and funeral they want.
"When a significant majority of people say they want to die at home, but around 60% end their days in a hospital bed, it's clear this so-called 'reserve' is preventing a large number of people from dying how they want," said Professor Lakhani.
"It is shocking that the vast majority of people in England don't take time to remember dead loved ones.
"This is further compelling evidence of the wall of silence our society's built around dying and death
"But it is important that it is identified and talked about. They should be able to talk about their wishes and how they would like to be remembered.
"We would be a much more compassionate society if we could become a little bit more comfortable about talking about this taboo.
"And if we can get more 'good deaths' we will really be doing something special."
Professor Edwin Pugh, a consultant in palliative medicine at North Tees and Hartlepool NHS Foundation Trust, agreed planning is key.
"Death and dying is a normal situation. We are all going to face death and dying at some time.
"But unless you are able to talk about them with your loved ones you will be carrying a lot."
Dr Elizabeth Baquedano from the Institute for the Study of Americas, University College London, explained that in some cultures the dead are celebrated with a special day - 'Días de Muertos' (Day of the Dead) - on November 1.
"In Mexico, everywhere you will find an altar dedicated to relatives who have died and want to be remembered on the day.
"People would have the photograph of the relative who died and they put alongside the photograph all the things that he enjoyed while in life.
"If he enjoyed a beer he would have a beer, cigarettes and what he liked to eat like chicken and chocolate sauce - a very common Mexican dish called mole."
A recent survey by the Dying Matters Coalition has revealed that three out of four (75%) people in England do not take time to remember loved ones who have died.
The survey of more than 2,100 people by YouGov for the coalition also suggested that nearly two thirds (61%) of us think the English are more reserved about death than other nationalities.
Mandy Paine, 48, has end-stage chronic obstructive pulmonary disease (COPD) and she believes strongly about being open about her death.
She was diagnosed nearly two decades ago, and knows a bout of the flu could kill her as her lungs are now so weak.
"When I was told we knew what to plan ahead," said Mrs Paine, from Wick, near Littlehampton in West Sussex.
"I have two sons, one of whom has Asperger's syndrome. I needed to prepare them.
"We set up a wish list and the 'Bin Bucket' - things to do before I kick the bucket."
Mandy, who has campaigned against physician-assisted suicide for the terminally ill, has been to West End shows, organised her own funeral and made a memory box for her children.
Her next wish is to reach her 50th in 14 months.
"I want to have a big party - a teddy bear ball. I love teddy bears. I have written a list for two endings because, even if I don't make it, I want it to go ahead," she said.
Dr John Troyer from the Centre for Death and Society ,at the University of Bath agreed that Mandy's was a healthy approach.
"Human mortality is something that every person encounters at one point or another and thinking through what dying means to an individual is a fundamentally important part of the life cycle.
"There is nothing morbid, macabre, abnormal or wrong in talking about death and dying. Nothing at all."
Related Internet Links
The BBC is not responsible for the content of external sites.