Flu jabs during pregnancy 'help protect child'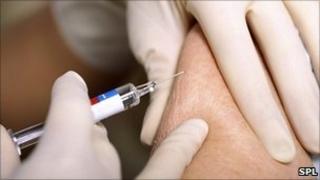 Babies are less likely to get flu if their mothers have had the vaccine during pregnancy, a US study says.
Researchers examined 1,169 women from an American Indian tribe, finding it reduced infections by 41% in the first six months of life.
The study by the US Armed Forces Health Surveillance Centre is just the latest to suggest such a link.
And it comes as all pregnant women in the UK are to be offered a winter flu jab for the first time.
When the announcement was made last week, government officials said it was just a one-off move in response to the swine flu strain which is likely to be circulating again.
Possible benefit
The virus was particularly risky for pregnant women.
However, the government's vaccine advisers are also considering whether pregnant women - as they already are in the United States - should be offered the flu vaccine on a permanent basis.
The issue of a possible benefit for the unborn child is being taken into account as part of that process.
Angelica Eick, who led the study, published in the Archives of Pediatrics and Adolescent Medicine, said blood samples from the study showed antibodies were passed on from mother to child.
She said this supported the case for mothers being vaccinated, as babies are generally not given immunisations before six months of age.