Doctors' official warnings show 50% increase, figures show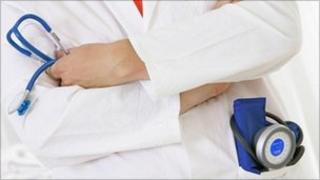 The number of official warnings given to UK doctors has risen by nearly 50% in the past two years, figures show.
The General Medical Council reprimands - used for more minor offences that do not warrant being struck off or suspended - hit 262 last year.
But legal experts questioned the system as it also took into account personal behaviour such as motoring, public disorder and drinking offences.
The GMC is now reviewing its processes following the rise in cases.
The figures, obtained by the BBC under a freedom of information request, showed warnings rose from 179 in 2007 to 262 in 2009.
This happened during a period when the number of suspensions and erasures from the medical registers stayed relatively steady at just under 150 a year.
But there is some unease in the medical profession about what they are being penalised for.
'Uncomfortable'
More than 130 cases during the period involved drink-driving, while doctors were also reprimanded for breaches of the peace, disorderly behaviour, driving without tax, insurance or a licence and assaults.
Dr Nick Clements, from the Medical Protection Society, a legal advisory body for doctors, said: "Of course the GMC must have the ability to fire a warning shot where a doctor's behaviour warrants it.
"However their information is available for everyone to see for five years and it can be brought up by future employers at any time, which does sometimes feel very uncomfortable.
"After all we are all human beings, and nearly all of us will have lost our tempers or sometimes had the odd glass of wine too many.
"Being a normal, rounded person in their private life does not mean someone is a risk to patients or reflect on their abilities as a doctor."
The GMC said it was going to look into the issue. In particular, it is focusing on a fairly rapid rise in referrals from public officials, such as NHS colleagues and police.
But it said it was right to consider cases "where public trust in the profession could be damaged".
GMC deputy chief executive Paul Philip added: "The numbers still represent a very small proportion of the 230,000 registered doctors in the UK."